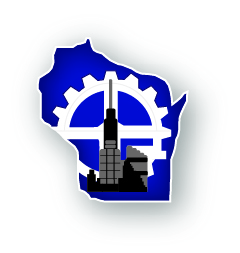 Higher mortgage rates and interest rates likely contributed to a recent decline in new homebuilding in Wisconsin, according to an economics expert at Marquette University.
David Clark is a professor of economics and executive associate dean in the university's College of Business Administration. In a recent interview, he explained rising mortgage rates and construction loans are impacting related building activity. 
The national average for a 30-year fixed rate mortgage fell slightly from 5.52 percent in June to 5.41 percent in July, Clark said. But that remains well above the rate from July 2021 — 2.87 percent.
"Those higher mortgage rates, and those higher rates that are going to show up on construction loans as well, that's certainly something that will have an impact on people pulling permits," he told WisBusiness.com. "I think that's more likely to be the primary driving factor than other things that might impact the decision to take out a loan."
And he noted federal officials have been raising short-term interest rates in hopes of tamping down inflation, which hit a recent peak of 9.1 percent earlier this summer.
The number of new home construction permits fell 24 percent over the year in the second quarter of this year, a recent report from the Wisconsin Builders Association found. A total of 3,328 permits were issued between April 1 and June 30, compared to 4,382 during the same period of 2021, the report shows.
Clark said it's unclear whether the United States is currently in a recession, as initial GDP figures showed a continued downturn in the second quarter but the labor market remained strong. Plus, the National Bureau of Economic Research — which officially decides if a recession is taking place — has yet to weigh in, he noted.
"It may well be the case that we are in the recession and ultimately it does have an effect, but I think it's more likely, just looking at that second quarter data from housing permits, and concluding … the major reason here is the high mortgage rates and interest rates," he said.
According to Clark, the NBER will likely wait until revised second quarter GDP figures are available before making a call on the recession question. The agency also incorporates other factors such as industrial production and the labor market.
"My guess is, if we don't hear about it in September, that it will be after the midterm elections in November … they try to avoid appearing to be political in their decisions," he said.
See the Wisconsin Builders Association report: https://www.wisbusiness.com/2022/wisconsin-builders-association-homebuilding-sees-24-percent-decrease/