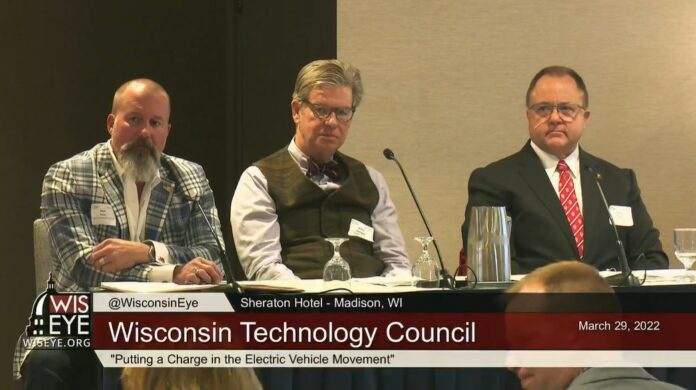 Transportation and electric vehicle experts say federal dollars could go a long way toward making charging stations more accessible, but the Legislature needs to clarify public utility laws before Wisconsin sees widespread charging network expansion.
UW-Madison Transportation Engineering Prof. David Noyce at a Wisconsin Tech Council luncheon in Madison yesterday said those involved in figuring out where to place new charging stations purchased with federal dollars from the bipartisan infrastructure law will focus largely on where drivers start and end their trips.
"So how are we going to decide where to put these charging stations? And the way I think about it and the way we're looking at it, at least from a research perspective, is related to something that we always call in transportation engineering an origins destination study," Noyce said.
He added creating charging networks in those high-use areas should come first, followed by an effort to fill in what he calls "mid-trip" EV charging needs. He also said addressing those intermediate charging needs would help curb much of the range anxiety concerns keeping many away from early EV adoption.
The federal infrastructure bill includes $79 million for EV charging stations in Wisconsin, according to a White House fact sheet.
But Godfrey & Kahn's Art Harrington said legislation governing who is allowed to provide electricity to the public must be clarified before widespread EV adoption or charging station construction happens.
"There is a big issue," Harrington said. "And that's whether providing charging to the public, or indirectly, is a regulated public utility."
He added the Legislature tried to tackle the issue with SB 573, but the measure failed to clear both chambers.
That bill spurred debate on which is best: a model centered on large public utility companies; or a model based on smaller, privately owned EV charging networks.
The model centered on larger public utility company EV charging networks would have cost-effectiveness, supply availability and pricing regulation and consumer protection advantages, Harrington said. But they would be more susceptible to hacking, less likely to immediately use renewable energy sources and struggle with balancing peak charging hours with demand.
Harrington added the smaller model would benefit from the likelihood it would use more renewable energy sources and be less of a target for hackers. However, the smaller operations would take more effort to connect with each other, lack consumer protections and likely be more costly overall.
Kayser Automotive Group President Sean Baxter said the high average cost of EVs is also a barrier for those looking to become an early adopter of the technology.
"It's still an expensive proposition for a lot of people," he said. "The technology is still expensive. The average price of an EV is probably in that $50,000-60,000 range. That's out of reach for a lot of the buying public still."
Harrington also said he expects many early adopters to be shipping companies that manage large fleets of vehicles that start and end most of their days at the same location.
"I think the early adopters are going to be in the logistics area," he said. "Amazon, FedEx, delivery; they're all doing that and it's perfect, right?"
Still, Harrington stressed clarity on legislation regulating who can supply electricity to the public is needed before that happens in the logistics industry.
Watch the luncheon:
https://wiseye.org/2022/03/29/wisconsin-tech-council-putting-a-charge-in-the-electric-vehicle-movement/
See an earlier story on SB 573:
https://www.wisbusiness.com/2022/assembly-committee-approves-electric-vehicle-charging-bill/
See the White House fact sheet on the bipartisan infrastructure bill:
https://www.whitehouse.gov/wp-content/uploads/2021/08/WISCONSIN_Infrastructure-Investment-and-Jobs-Act-State-Fact-Sheet.pdf
— By Adam Kelnhofer
WisPolitics.com