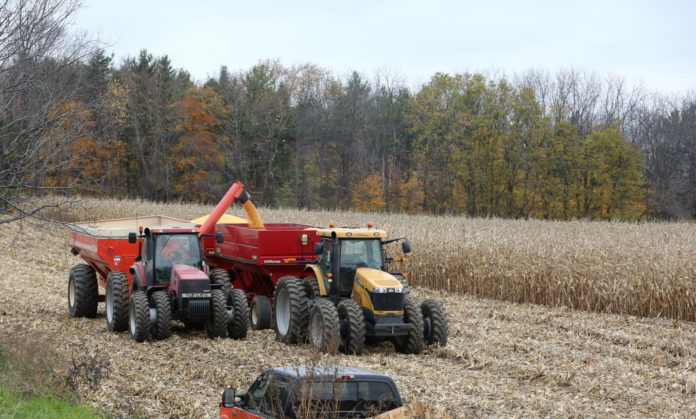 The head of Edge Dairy Farmer Cooperative says he's hopeful Canada will "right the ship and come into compliance" with the USMCA after a dispute settlement panel found Canada is breaching elements of the agreement.
After the United States requested in May 2021 that the panel be established, its final report was issued last month showing Canada is reserving a percentage of the in-quota quantity in its dairy tariff-rate quotas for "the exclusive use" of Canadian processors. Because a tariff-rate quota applies a preferential duty rate to a certain quantity of imports, the panel found that Canada "has been undermining the value of its dairy TRQs for U.S. farmers and exporters."
That's according to a release from U.S. Trade Representative Katherine Tai, who says the panel's findings will "help eliminate unjustified trade restrictions" on U.S. dairy products.
Brody Stapel, president of the Green Bay-based cooperative, says the efforts of Tai's office will ensure that "our dairy farmers see the full benefits" of the U.S.-Mexico-Canada Agreement. Edge is one of the largest dairy co-ops in the country.
"When NAFTA was renegotiated and the USMCA was implemented, we were hopeful the new agreement would bring opportunities to our dairy farmer members, but that is only possible if both sides play by the rules," Stapel said in a statement. "We are pleased to see that dispute settlement mechanisms put in place through the agreement are working, and hope that our trusted trading partner and neighbor will right the ship and come into compliance."
Wisconsin Farm Bureau President Kevin Krentz says the group hopes the panel's decision "emboldens the Biden Administration to continue to open additional export markets and trade partners," arguing the state's dairy products can "compete with anyone" on the global stage.
"Consumers across the country have picked Wisconsin dairy products when given a choice and we welcome news that our neighbors to the north will finally be given the same choice," Krentz said in an email. "We look forward to additional Wisconsin dairy products making their way to Canadian shelves."
U.S. Rep. Ron Kind calls the panel's decision a "historic win" for U.S. dairy farmers. He had signed onto a letter in May calling on federal officials to move forward with enforcement measures under the USMCA related to Canada's dairy tariff-rate quotas.
"This decision will ensure American dairy farmers and producers are able to compete on the even playing field they deserve," the La Crosse Democrat said in a statement.
Under USMCA rules, Canada has 45 days from when the final report was issued on Dec. 20 to comply with the findings of the panel, the release shows.
Canada is the third largest export destination for U.S. dairy products, and the top export destination for Wisconsin agricultural products. The state exported $1.2 billion in ag products to Canada in 2020, according to DATCP.
See the release from Tai: https://ustr.gov/about-us/policy-offices/press-office/press-releases/2022/january/united-states-prevails-usmca-dispute-canadian-dairy-restrictions
See the panel's report here: https://ustr.gov/sites/default/files/enforcement/USMCA/Canada%20Dairy%20TRQ%20Final%20Panel%20Report.pdf