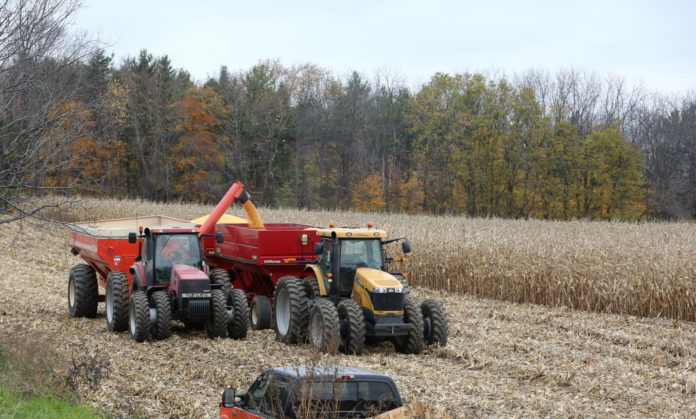 The value of Wisconsin's field and miscellaneous crop production vaulted to $5.38 billion last year on higher commodity prices, a recent USDA report shows.
That marks a 25 percent increase over 2020's production value of $4.3 billion. Before 2020, that number hadn't exceeded $4 billion since 2012. The increase was driven in part by higher production levels and average price for grain corn and soybeans.
The value of corn for grain production was $2.85 billion in 2021, rising 26 percent from the previous year. Soybean production was $1.43 billion, for a 33 percent increase over the year.
And the average corn price was $5.20 per bushel, which is 76 cents above the prior year. And the average price for soybean increased to $12.60 per bushel for an increase of $2.20.
Overall production value also increased for Wisconsin's alfalfa hay, potatoes and winter wheat last year, while it decreased for barley and oats.
The top five counties in the state for soybean production were: Dane, with 5.38 million bushels; Rock, 5.33 million; Dodge, 4.98 million; Grant, 4.72 million; and Lafayette, 4.14 million.
Meanwhile, Lafayette County had the highest soybean yield — which equals production divided by area harvested — with an average of 63.5 bushels per acre. The next four highest were: Dane, 62.9; Dodge, 62.9; Grant, 62.9; and Iowa, 61.3.
Dane County also had the highest total corn silage production with nearly 1.07 million tons, the USDA report shows. That was followed by: Fond du Lac, 1.05 million; Manitowoc, 970,000; Dodge, 748,000; and Brown, 731,000.
The highest yield for corn silage was seen in Green Lake County, which had an average of 25 tons per acre harvested last year. The next highest were Pierce, with 24.5, and Jackson, with 24. Six counties had a yield of 23.5 tons per acre.
See the crop report here: https://www.wispolitics.com/wp-content/uploads/2022/02/220225cropvalues.pdf 
–By Alex Moe