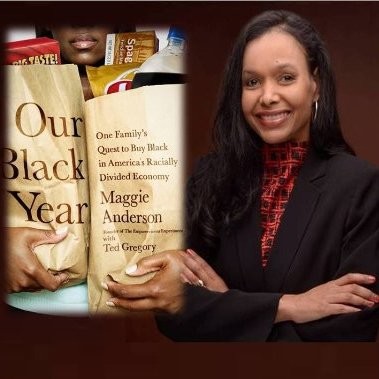 Author and activist Maggie Anderson is calling on members of Madison's business community to include more Black-owned companies in their supply chains.
"My conscious consumers and my advocates already in the movement, diverse business owners — you too — you have to lead the way," she said yesterday. "The question for you is, are you ready to compel this change and inspire the rest and fight racism with your buying power, your influence and your individual success?"
Her remarks came during the Greater Madison Chamber of Commerce's Icebreaker event, held in-person this year for the first time since 2019. She addressed a crowd of nearly 800 attendees at the Kohl Center in Madison.
Anderson is CEO of The Empowerment Experiment Foundation, which aims to address racial disparities in the U.S. economy, and author of the 2012 book, "Our Black Year: One Family's Quest to Buy Black in America's Racially Divided Economy."
In her book, co-authored by former Chicago Tribune reporter Ted Gregory, she detailed her family's experience with shopping exclusively at Black-owned businesses for one year while living in a Chicago suburb. She said they "spent or otherwise invested" over $94,000 that year in these businesses they would not have otherwise, and over 90 percent of their spending went into predominantly Black areas.
"We went without. We were disappointed by the number of markets and industries where African Americans still suffer from a complete lack of representation," she said.
She highlighted the "food and retail deserts" in these areas, in which residents are "forced to settle for inferior goods and services, extortionate prices and enduring disrespect from shop owners who don't live in, and hardly hire in the community."
Anderson explained the experiment made for a challenging year, highlighting difficulties with finding fresh fruit and clothes that fit her two young daughters.
"I made my girls eat gas station food like old, putrid bologna and over-priced, over-sugared — I hope it was cereal — for dinner," she said, noting the only Black-owned grocery store in the area closed five months before the end of the experience. 
The Kellogg School of Management conducted a study based in part on her family's receipts and the data they collected, Anderson noted. The 2010 study found if African American households with over $75,000 in income increased their spending through Black-owned businesses from 3 percent to 10 percent, 1 million new jobs could be created, she said.
"This teeny boost of support would have a geometric impact," she said. "This is the challenge of 2022. This is how the chamber fulfills its charge to make Madison the best place in the country for entrepreneurs of color to own a business."
As a comparison, she said any dollars spent within Asian American and Jewish communities typically circulate among their banks, retailers and other businesses for several weeks before going elsewhere.
"That's why these groups have the lowest unemployment and incarceration rates, and the highest household incomes and educational achievement," Anderson said. "In the Black community, the dollar lives six hours. Six hours. This is why racial disharmony and racist systems and structures grow."
She added minority suppliers represent just 2 percent of annual spending by Fortune 500 companies, asking attendees: "Are you going to overlook that? Are you going to let that one slide?"
In an emotional moment near the end of her speech, Anderson revealed she has been battling cancer and removed her wig, receiving a standing ovation. Since being diagnosed in June, she said she's gone through five surgeries, six months of chemotherapy and six weeks of further treatment.
"I've shown you my strength. Now you show me yours," she said.
–By Alex Moe