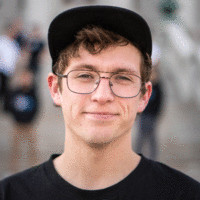 This week's episode of "WisBusiness: the Podcast" is with Max Fergus, CEO and co-founder of LUM, a music platform based in Madison.
Fergus describes the company as "the future of the creator economy for the music industry," and discusses how the industry has changed over time with the rise of streaming services and social media.
"I believe that music is potentially the biggest creator economy industry in the world," he said. "Millions of extremely talented musicians that need to find new ways to engage and monetize fans by giving them really cool and unique experiences."
Since the business was created in 2018, the platform has picked up over 200,000 music creators and recently rolled out a new monetization and engagement service for artists called Creator Clubs.
"Right now, artists on LUM are earning more per-stream than every other U.S. streaming service," Fergus said. "I think that goes to show the scale of musicians we've been able to get on the platform."
Listen to the podcast below, sponsored by UW-Madison: