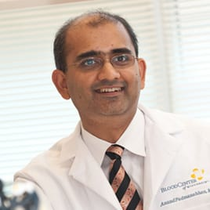 The new "WisBusiness: The Podcast" features Dr. Anand Padmanabhan and his Milwaukee area startup Retham Technologies.
Padmanabhan, an expert on blood clotting, founded the company to work on a better test for the condition heparin-induced thrombocytopenia or HIT. 
Spontaneous HIT occurs when patients don't take the drug heparin but somehow develop clots that can be very severe. This is a very rare side effect of the Johnson & Johnson and AstraZeneca COVID-19 vaccines.
If these rare cases are not diagnosed and treated quickly, they can lead to strokes, amputation or death. Currently, it's challenging to quickly diagnose and treat this condition, Padmanabhan explained.
"Right now, making an accurate diagnosis of HIT or spontaneous HIT in some cases can take several days because not a lot of hospitals are equipped to run that testing that is needed to make the diagnosis," he said.
Retham Technologies is developing an easy-to-use test to more quickly diagnose the blood clots. The company is in advanced stages of research and development. Padmanabhan anticipates that in two years after performing the FDA mandated clinical studies that it would become available in 2023.
See more on Retham Technologies: https://www.rethamtechnologies.com/
Listen to the podcast below, sponsored by UW-Madison: