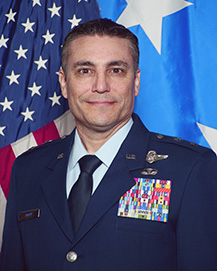 In this week's episode of "WisBusiness: The Podcast," the Wisconsin National Guard leader, Maj. Gen. Paul Knapp, highlights his troops' historic role in the state's COVID-19 response.
The Guard has fulfilled a variety of roles across the state since its response to the COVID-19 pandemic began after a March 12 public health emergency declaration from Gov. Tony Evers. This is the largest civil response by the Wisconsin National Guard in its history.
It began with transporting Wisconsin residents from a cruise ship with a COVID-19 outbreak back to their homes. From there, the Guard shipped personal protective equipment, ran self-isolation facilities, assisted with mortuary affairs, staffed a senior living facility, served as poll workers and collected over 1 million COVID-19 tests statewide.
Now, soldiers are embarking on another task: vaccinating Wisconsinites. The state has its mobile vaccination clinics in motion statewide made up of Guard members and vaccinators. The Guard has been approved to administer vaccines and is preparing to ramp up the mobile sites, said Knapp, the state's adjutant general. He added the Guard is also ready to assist at mass vaccination sites.
While the Wisconsin National Guard takes on vaccinating, it continues to test statewide.
"We scaled back a little bit after the first of the year just because testing demand has gone down across the state," he said. "We're available and out there across most counties across the state and so if someone needs a COVID test … then definitely look for a site in your area and go out there and get tested because really we need to continue to keep stopping the spread as we ramp up our vaccination program."
Find a testing site: https://www.dhs.wisconsin.gov/covid-19/community-testing.htm
Listen to the podcast below, sponsored by UW-Madison: