University of Wisconsin-Stout alumna Katie Kumerow wants to help lower the environmental footprint of fashion.
Kumerow, of Winston-Salem, N. C., who graduated in December 2014 in retail merchandising and management, is the director of sustainability at Nester Hosiery in Mount Airy, N.C., a position she has held for about five years.
The family-owned company designs and manufactures socks for mountaineers, firefighters, military personnel, athletes and more. It strives to manufacture quality socks that take advantage of sustainable materials when possible and require the least amount of energy, water and waste to produce. The company also owns and operates Farm to Feet, a 100% American-made sock brand.
"I love that I get to combine my passion for fashion and apparel manufacturing with my drive for a more environmentally conscious world," Kumerow said. "I feel like I am making a positive change in an industry and making products I enjoy."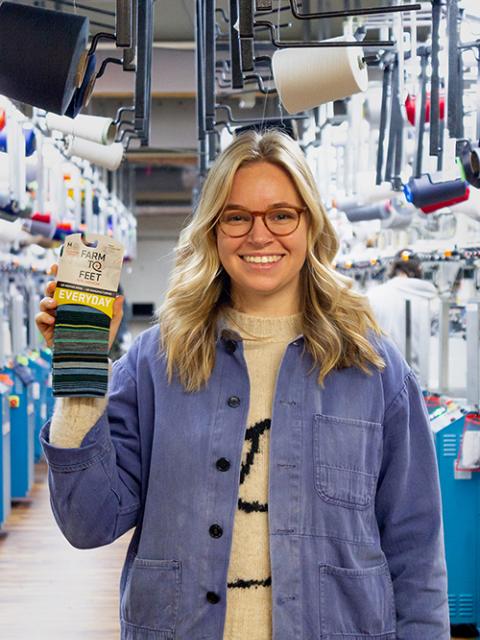 Nester Hosiery produces socks for more than 50 brands and retailers. Kumerow makes sure the company is environmentally compliant, is striving to use more sustainable materials in manufacturing and staying on top of sustainability trends and best practices in the industry. She also works with the stewardship side of the company. Nester Hosiery donates a portion of its sales to help maintain hiking trails.
The materials used in Farm to Feet socks are all from the U.S., and the company shares stories of its supply chain on its website and packaging. The company also encourages farms to treat their sheep humanely and supports globally recognized standards used in animal welfare.
"I do love that it is a manufacturer. I can walk out to the production floor and see socks being knitted and shipped in real time," Kumerow noted. "I can see the product being created right before my eyes and the people making them."
Nester Hosiery has about 160 employees with 25 to 30 people on the front side of the business and the rest in manufacturing. "I love that it is a tight-knit company, no pun intended," Kumerow said. "We work very closely together."
Kumerow first became interested in sustainability in the fashion industry when she took part in the study abroad program at UW-Stout during the 2013 spring semester. She and other students traveled to Hangzhou, China, and toured apparel factories to learn more about the fashion industry's manufacturing process. "Seeing the manufacturing part of it, I understood it was a really wasteful industry," she said. "I saw there were a lot of processes we could improve there."
When she returned from the trip, the next school year she started working in the Sustainability Office at UW-Stout with Sustainability Manager Sarah Rykal to learn more about sustainability priorities and processes.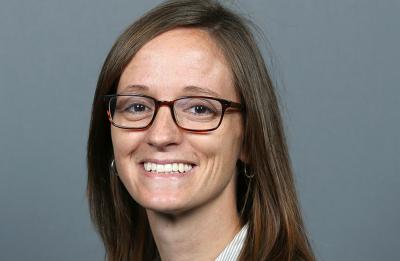 Rykal said Kumerow has been committed to sustainability and is pleased she is working in the apparel industry in a sustainability position.
"Katie is one of the most determined students I've ever had the pleasure to work with," Rykal said. "She had a dream to make the world more sustainable through fashion, and she's doing just that. When she applied for a job as a sustainability assistant in 2014, her cover letter remarked on the need for all of us to see the bigger picture of the threat of global climate change and making improvements in our daily lives and within major industries to mitigate climate change. She truly understands the big picture of the work she's done for years and is committed to making our planet habitable for humans and more socially just."
When people think of sustainability, they don't often consider their clothing, Rykal said.
"The fashion industry with its normal practice of 'fast fashion,' churning out new clothing made of largely unsustainable materials for each new season and encouraging customers to continuously consume new clothing, has historically been quite unsustainable, both environmentally and from a social equity perspective," Rykal said.
That is starting to change as more apparel companies prioritize sustainable materials, packaging and manufacturing and incorporating roles for sustainable professionals like Kumerow, Rykal said.
"This is so heartening to see, as fashion makes a significant contribution to climate change," Rykal said. "According to a recent study by McKinsey, the fashion sector was responsible for 2.1 billion metric tons of greenhouse gas emissions in 2018, the same quantity of GHGs per year as the entire economies of France, Germany and the United Kingdom combined. Sustainability professionals in the apparel industry are extremely important because they are able to help reduce emissions, mitigate the effects of the climate crisis and push for social equity in manufacturing."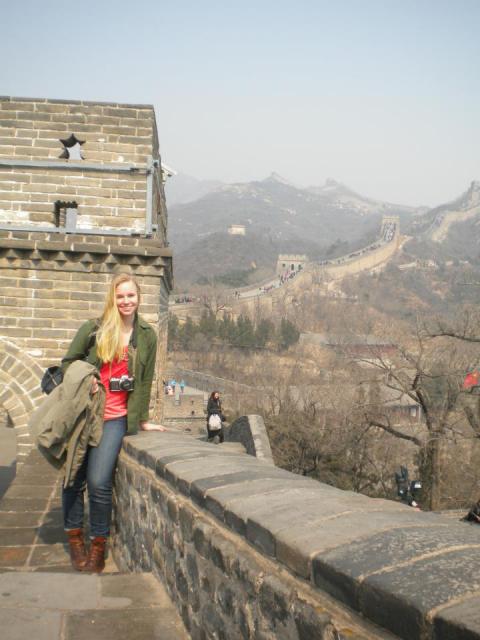 Kumerow, of Forest Lake, Minn., always had an interest in retail and apparel. "The retail program at UW-Stout made me realize all the different job options in the retail and apparel industry," she said. "The classes were really spot on to many of the things that I was doing and learning when I started my career. If you know you want to go into the apparel industry, UW-Stout has the perfect degree for you."
The retail merchandising and apparel design programs at UW-Stout recently merged into one program, fashion and retail. UW-Stout also offers a minor in sustainability.
New opportunity
This spring Kumerow will be moving to Berlin, Germany. She has accepted the position of senior manager of product sustainability for the online fashion retailer Zalando, a European e-commerce company founded in 2008 in Berlin. The company sells shoes and fashion online in 17 European markets, has 35 million active customers and is the largest online-only retailer in Europe.
Saddened to leave her job, Kumerow is looking forward to the adventure of moving to Berlin. "I wanted to get back into the brand and retail side of the fashion industry, where there is a bit more leverage to implement sustainable products and processes," she said.
According to an article in Harper's Bazaar in May, Zalando is making sustainability a requirement for brands that work with the company. Beginning in 2023, all 2,000 fashion brands under its remit will have to provide supply chain information through the Higg Index Brand and Retail Module, an assessment tool used by the apparel industry that measures environmental and social impacts. Those who do not complete an assessment will no longer be featured on the platform.
The company is striving to minimize packaging waste and eliminating single-use plastics. The company notes 90% of the energy used at its locations comes from renewable resources.
The new job allows her the opportunity to have an even greater impact in the apparel market by working within a larger company with more reach to bring sustainability to the industry, Kumerow said.