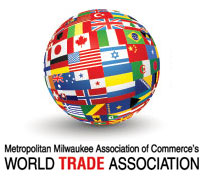 Supply chain experts on a recent webinar spoke to the importance of working with a trusted broker while navigating international trade.
During a discussion hosted yesterday by the Metropolitan Milwaukee Association of Commerce's World Trade Association, MOTIS Brands Director of Global Sourcing Desiree Pasbrig said ensuring compliance with U.S. Customs and Border Protection regulations often requires a collaborative approach.
In her role at Germantown-based MOTIS Brands, Pasbrig works with over 30 suppliers throughout China, Taiwan and Mexico. The company sells transportation equipment including lifts, ramps and covers.
"Use each others' experience and knowledge, share information with each other as much as possible," she said yesterday. "It can be the difference between your imports coming in smoothly, or things getting hung up during entry when not all the right information is there."
Margaret Lange, compliance director for M.E. Dey & Co., touched on the "delays and backups and backlogs" plaguing supply chains worldwide as well as the associated costs. M.E. Dey & Co. is a logistics firm based in Milwaukee that handles import and export services for a variety of businesses with partner offices in more than 70 countries.
Lange said most experts watching the disfunction unfold expect these challenges to last "well into 2022, probably into 2023." She said working closely with suppliers as well as customs brokers will help businesses avoid encountering roadblocks.
"Your broker is going to need to have a lot of experience, they're going to have connectivity to U.S. Customs through systems, and they're going to be able to have a lot of knowledge to help you get through this process," she said.
Pasbrig said she typically seeks out brokers with an established reputation that understand how to work with government agencies. She recommended working with brokers that provide a "21st century experience" with digital tools for tracking shipments and backing up documents.
"I would want a lot of experience and integrity. I don't want my broker to just tell me what I want to hear," she said. "I would like to be challenged if I need to be challenged."
Given the current logistical hurdles companies are facing, Lange said "it's still critically important, if not more so than ever" that companies importing goods maintain a focus on trade compliance.
She noted that last year, U.S. Customs and Border Protection officials seized over 73,000 shipments coming in for trade-related issues. Delays in product shipments can result from various examinations including X-ray imaging as well as more in-depth vetting.
"So it's important for you to understand your product, your procedures, and develop good relationships with your customs officer as much as possible," she said.
See a recent story on supply chain challenges: https://www.wisbusiness.com/2021/rockwell-automation-responding-to-logistics-issues/
See more trade policy coverage at WisBusiness.com: https://www.wisbusiness.com/trade-policy/
–By Alex Moe