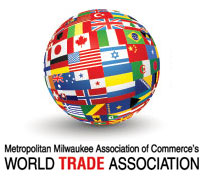 Rockwell Automation has been reducing shipment sizes and exploring alternative routes and carriers in recent months to respond to ongoing logistics issues.
"I would actually say that in some cases, our large volumes hurt us," said Christine Lynne, director of North American logistics for Rockwell Automation. "One of the things we've actually done is reduce the sizes to actually be able to operate in those smaller footprints."
Her comments came during a recent webinar hosted by the Metropolitan Milwaukee Association of Commerce's World Trade Association, focused on delays in shipping and other transportation challenges. Global supply chains have been disrupted by the ongoing COVID-19 pandemic, leading to delays and cost increases for many companies that rely on these networks to move their materials and products.
With headquarters in Milwaukee, Rockwell Automation is a global company with a presence in more than 80 countries around the world. Lynne said recent COVID-19 lockdowns and labor schedule changes at seaports and airports in China have caused issues for the company's shipments.
In some cases, fully loaded planes departing from the United States would return from China without being unloaded because the recipient location didn't have sufficient workers to do so, Lynne said.
"That's a heartbreaker, that you think you have the lift and then it comes back to you," she said.
She noted the "situation changes day-by-day" with shifting restrictions within individual provinces or specific airports. The company has created a tracker to keep an eye on those changes at various key locations, and has been working through transportation backlogs by finding different product avenues.
"Shanghai was the first airport to really, you know, have the largest impact from the lockdowns, so how do you look at different airports? Where do we have authority to import into different countries, different provinces, where can our brokers support us?" she said. "How do we diversify across the carriers that we use, even across the modes that we use?"
Others on the webinar also spoke to the importance of finding creative solutions to these issues.
Craig Grossgart is a senior executive with Illinois-based SEKO Logistics who handles ocean shipping operations. He said the company is relying on charter shipping to less congested "second-tier and third-tier ports" to sidestep some of the more overwhelmed locations.
"So there's any number of opportunities out there," he said.
Jeanne Heilman, Midwest area manager at the Port of Virginia, noted smaller and mid-size companies are struggling with supply chain problems and finding new ways to send and receive what they need. As with Rockwell Automation, some are splitting shipments and finding ways to transport them by railway or by truck.
"You've got to be open-minded at these times," she said. "Because I don't care where you are, there are going to be difficulties out there in the marketplace, and you just have to think out of the box, talk to other people, and just see what else can we do to move our product."
Sponsors of the webinar included the Wisconsin Economic Development Corporation, SEKO Logistics and M.E. Dey.