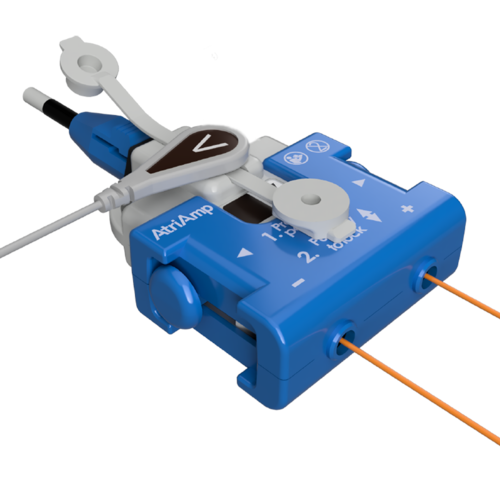 A device created by the team at Atrility Medical helps doctors caring for cardiac surgery patients to quickly and accurately recognize heart rhythm issues following surgery.
After heart surgery, irregular heartbeats called arrhythmias are common and can be difficult to diagnose. Arrhythmias can cause a range of symptoms including chest pain, dizziness and death in some cases.
With more than 400,000 heart surgeries taking place each year in the U.S. alone, Atrility Medical saw the need for a new device to better equip clinicians with the tools to diagnose arrhythmias in cardiac surgery patients.
Its product is AtriAmp, an FDA-cleared device that provides continuous heartbeat monitoring by measuring the electrical signals that cause the heart to beat. This information is displayed on a bedside monitor as an electrocardiogram, which is a graph of the patient's heartbeat.
Essentially, AtriAmp acts as a "hub" between temporary wires connected to a patient's heart at the time of surgery, a bedside monitor and if needed, a temporary pacemaker.
What separates the AtriAmp from the current ECG equipment on the market is the quality and timeliness of the information the device provides to doctors. This is because the device attaches to external wires that are connected to the patient's heart during surgery, which allows for a clear, real-time signal allowing for an arrhythmia diagnosis.
AtriAmp is used at the UW Hospitals and Clinics in the pediatric intensive care unit. The team at Atrility Medical began their sales here because its chief marketing officer, Dr. Nicholas Von Bergen, has close connections to pediatric cardiac research as an associate professor of cardiology.
"I thought, 'Why in the world don't we have a simple device that would allow continuous monitoring of the atria [top chambers of the heart] through these leads, which is the gold standard for arrhythmia identification?" Von Bergen told University News Service regarding the development of the device.
Atrility expects to expand its sales to reach adult patients around the country, although this rollout has been hampered by the COVID-19 pandemic. Nonetheless, Atrility's first sales began this quarter. UW Health's Isthmus Project, through its network of clinicians, investors and advisors, connected Atrility's team with additional support and resources.
Feedback from the UW Hospital has been overwhelmingly positive, and Atrility Medical is looking forward to extending its device to more hospitals soon. The AtriAmp is expected to aid in a faster and more accurate arrhythmia diagnosis and improve patient outcomes.
Atrility Medical is among the semifinalists of the 2021 Governor's Business Plan Contest, which will come to a close at the Entrepreneurs' Conference in June.
-By Maddie Arthur
Arthur is a student in the UW-Madison Department of Life Sciences Communication.