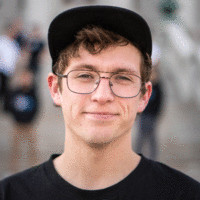 A music platform based in Madison called LUM has launched a new service for artists aimed at giving fans exclusive access to a wide range of content.
The new Creator Clubs service is a monetization and engagement tool for musicians on the LUM platform, meant to provide a more personal experience for fans. LUM, which stands for Live Undiscovered Music, was founded in 2018 and now has more than 200,000 registered musicians on its platform.
"It's a way, in such a busy world, to allow artists to more easily and effectively engage fans that want closer access to them," said Max Fergus, the company's CEO. "For a fan, it's almost like getting to be a part of your closest artist's friend group."
Through the new Creator Clubs service, fans pay a monthly subscription fee to be part of an artist's club, while artists can message their fans directly through texting, email or in-app messaging.
"They can send their fans music videos, photos, media, links, early releases on track drops — almost anything and everything you could ever imagine," Fergus told WisBusiness.com in a recent interview.
He explained the company aims to "put more money in the pockets" of music creators, giving both established artists and up-and-coming talent more control over their income and online presence.
LUM has also launched a number of other services over the past 18 months including a virtual gifting service and a music marketplace called The Exchange, where musicians can connect to one another to buy and sell music services.
See more on the company: https://lum.fm/
Listen to an earlier podcast with one of the company's co-founders, Derek Zenger: https://www.wisbusiness.com/2018/wisbusiness-the-podcast-with-derek-zenger-co-founder-for-live-undiscovered-music/
–By Alex Moe