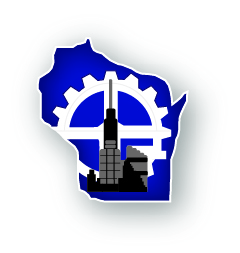 Leaders in Milwaukee say investments in education and employment opportunities will help attract more young professionals.
"I definitely think we need to have a bigger emphasis on education," said Marquayla Ellison, president of Social X MKE and chair of the city's Millennial Task Force. "I think that's just a ripple effect into a lot of the issues we're dealing with right now."
The task force was created in November 2019 and in May submitted its final report, including a number of recommendations for addressing the "brain drain" Milwaukee. Previous reports from the UW-Milwaukee's Lubar Entrepreneurship Center have shown the city is losing thousands of young professionals each year to other metropolitan areas.
Ellison joined Milwaukee Common Council President Cavalier Johnson and fellow task force member Jeremy Fojut, co-founder and chief idea officer of NEWaukee, for a virtual discussion Friday. They discussed the task force's recommendations with journalist Mike Gousha during an "On the Issues" event hosted by the Marquette University Law School.
Some of those recommendations relate to greater transportation opportunities, fostering employment and economic development, racial and criminal justice, health and wellness, as well as education and marketing.
Fojut noted the city ranks "really low" for the number of new startup companies and capital investment, and highlighted one idea aimed at improving those numbers.
"Why don't we take fifty grand and invest it in someone that wants to create a company that could attract 300, 400 people here — more than that," he said. "If we could give 10 founders from across the country $50,000 to move here for a year, wrap a community around them … If one of these companies works, you see change."
He noted many of the most successful startups in Milwaukee were founded by people who came to the city from elsewhere. He argued the city needs "more builders, not more complacency here."
Ellison called for greater funding and publicity efforts for existing educational programs in the city and at UW-Milwaukee. She also emphasized the importance of "better marketing and storytelling" about the opportunities the city provides for students and young professionals.
"There are a lot of great programs, but I think the accessibility, even just knowing about them is limited," she said. "Just making sure there's robust messaging so people know what's going on in Milwaukee."
With current Milwaukee Mayor Tom Barrett recently tapped for a U.S. ambassador position by the Biden administration, Johnson is poised to become acting mayor if the appointment is confirmed. He has also expressed a desire to run for the elected position.
During Friday's discussion, he noted the city's ongoing issues with crime and violence are "bred by poverty."
"In order to address poverty, we need economic development," Johnson said. "We need to turn the tide, turn the page on what the city hasn't been able to do for the past 40 years — longer than my own lifetime. And that we haven't been able to transform after the collapse of heavy manufacturing."
He said Milwaukee leadership needs a renewed focus on "safety and stability" in order to reestablish pride in the city and its neighborhoods. Fojut also argued for a change in attitude among the city's leaders, both in government and private industry. He summarized the change he wants to see as "brains over bricks."
"How do we start investing in people that create things?" he said. "We build something, and spend $130 million or $400 million or whatever, and then we think it's progress because we've changed a building."
Rather than focusing funding on major development projects that don't necessarily benefit everyone in the city, Fojut said the task force recommends an "infrastructure-for-all" approach.
"Most of the buildings that we invest that kind of money in are used half of the year, maybe even less," he said. "But what fills those buildings? What gets people in neighborhoods to live there?"
See the full list of recommendations in the task force report: https://city.milwaukee.gov/ImageLibrary/Groups/ccCouncil/Initiatives/Millennial-Task-Force/MTFFinalReport5.18.21.pdf
Watch a video of the discussion here: https://www.youtube.com/watch?v=0sbWw5sTkp0 
–By Alex Moe