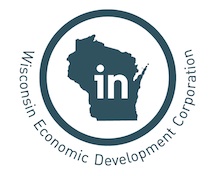 WEDC chief Missy Hughes says agency staff are "working through the process" of determining which businesses are essential after a spike in related web traffic contributed to the agency's site crashing.
"This is a hard conversation," she said today during a webinar viewed by business leaders. "Everybody wants to be essential, and everybody is essential."
After the order was announced yesterday, the Wisconsin Economic Development Corp. website received an "extraordinary spike" in traffic and crashed for several hours. WEDC spokesman David Callender said nearly 2,000 information requests about essential business status have been received by the site, and noted agency staff are "swamped" by the workload.
"I'm going to say honestly that the turnaround time right now is rough, because we have gotten a number of inquiries," Hughes said.
On a typical day, Callender said the WEDC site logs around 1,000 sessions, each of which can include multiple page views and interactions. Callender said yesterday's session number "may have cleared 100,000 by the end of the day." The agency is asking businesses that find they are essential not to reach out for confirmation.
Gov. Tony Evers' "safer at home" order includes a long list detailing which businesses qualify as essential and which must close down until April 24, when the order expires.
In today's call, Hughes acknowledged the order "came fast and furious yesterday." She said the agency based the list of essential businesses on a model developed in Ohio, focusing on critical companies that "need to stay standing" for the economy to keep working.
She encouraged any businesses to "take the time to read the order" if their status is uncertain.
"It is a rare instance where someone who can't find themselves in that list of businesses in the order is going to be deemed as essential," she said.
Amid the onslaught of inquiries, Hughes said the agency is trying to group similar requests together and respond to them in batches. She said many requests are from supply chain companies that aren't sure if they qualify as essential.
"If you're supplying goods to a hardware story, to a healthcare facility, you're in that supply chain," she said. "Thinking about it that way and trying to understand where you flow into the system I think will be helpful for a lot of those questions coming in."
–By Alex Moe
WisBusiness.com