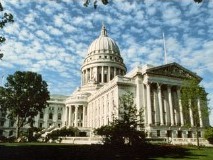 Forest County Potawatomi Chairman Ned Daniels is praising legislators for their efforts to address the opioid epidemic.

But Daniels in yesterday's State of the Tribes address also acknowledged there is still much more to do. And he urged lawmakers to "not give complacency a home" when tackling such challenging issues.

"And there is no challenge more complex than that of the opioid epidemic," Daniels said before constitutional officers and a joint session in the Assembly chamber. "It has no regard for age, race, gender or income and has likely impacted many of you here today."

Daniels said native communities have been some of the hardest hit by the epidemic. And he thanked Rep. John Nygren, R-Marinette, for his efforts on the HOPE Agenda to prevent opioid abuse.

Daniels further called on lawmakers to "include missing, murdered native women and girls" when working on human trafficking legislation. He mentioned President Trump's White House Task Force on Missing and Murdered American Indians and Alaska Natives as one way the states and tribal nations can collaborate with the federal government on the matter.

Daniels also thanked Gov. Tony Evers for creating the Governor's Task Force on Climate Change, as well as members of the Speaker's Task Force on Water Quality for their work over the last year on bills that would take steps to prevent further water contamination.

"However, there is more, always more, to be done to ensure there is clean air, water and soil for future generations," Daniels said. "There might not be anything more important than ensuring the sustainability of our most precious natural resources for future generations."

Daniels said state leaders and the 11 tribal nations within its borders should continue to work together for mutual benefit and to pursue the best interests of their constituents.

Read his prepared remarks:
http://www.wispolitics.com/wp-content/uploads/2020/02/200218Tribes.pdf