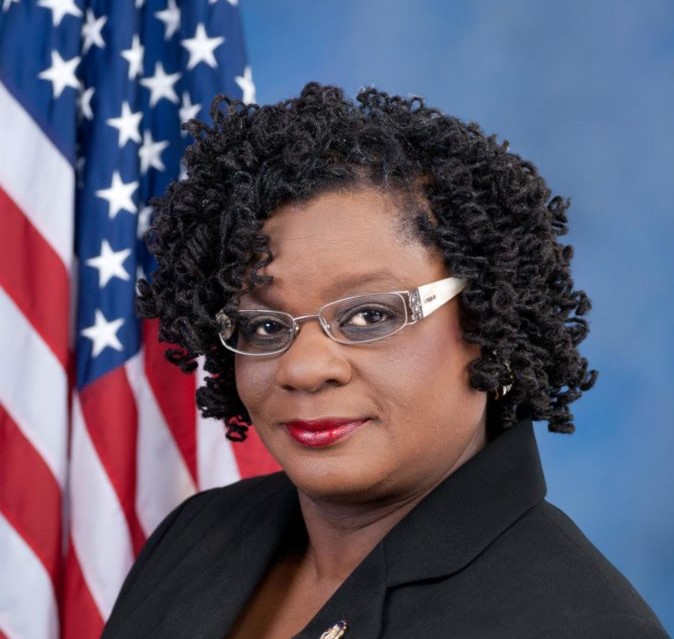 Public officials during Friday's Real Talk Virtual Summit on Racial Justice discussed how to allocate resources and strategies to address two pandemics — coronavirus and racism — as protests continue over the death of George Floyd.
Congresswoman Gwen Moore, a guest and panelist during the event hosted by Madison 365, said that resources need to be used in communities of color not only to create economic opportunities, but to aid public health with contact tracing.
"That will require that we not have denial from the very top of our leadership chain," she said (pictured above). "We have already lost the opportunity, timewise, to prevent this from being endemic. We're really running behind the curve."
Moore voiced that Republicans are going to have to "come to terms" with an economy projected to remain affected by COVID-19 until the end of 2021, which will require more economic impact payments.
"They don't want to give any money to local governments and the war is on," she said.
While Celestine Jeffreys, chief of staff for the Green Bay mayor's office, said she loves seeing what's going on in Milwaukee and Dane County in the response to COVID-19, she said if the virus is going to be defeated, it needs to be a statewide response.
"In order for us to actually put the pandemic down, we need minimally a statewide response, maximally a national response," she said, adding that the city of Green Bay relies on Brown County's health department and the Oneida Nation's health department.
The end result is a patchwork of recommendations regarding testing that cause confusion.

"The pandemic has revealed what we already know needs fixing in our society," Jeffreys said. "It is now up to us to identify what we need to do in order to make our society work for, more open for, more reflective of, more respectful of every member of our community."
She noted that the Green Bay mayor's office is trying to respond to what some of the protesters are talking about. But she said the challenge is not listening, but acting on what they are saying.

"One thing that would be important for us to do when we're considering how to shift money is to actually go to the people, to engage in subsidiarity, which is essentially asking people what they would want and then believing them and acting on it," Jeffreys said.
Milwaukee County Executive David Crowley added that a participatory budgeting tool and a racial equity budgeting tool allows people to provide input to amplify voices and make sure services meet the needs of minority communities.
He noted that now is an opportunity to focus on getting resources to the communities that have been disproportionately impacted by many different issues.
"We need these protesters out there… not only to just talk about what's going on with the social injustices," Crowley said. "It's about making sure that when we are releasing and allocating these funds, we're doing it through an equitable manner."
-By Stephanie Hoff
WisBusiness.com