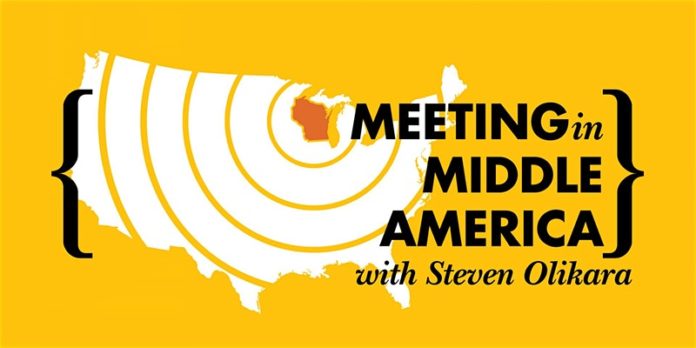 Steven Olikara, host of the new video podcast "Meeting in Middle America," wants to put a national lens on Midwest discussions about innovation, politics and entrepreneurship.

Olikara is a self-described "nontraditional political entrepreneur" who grew up in Brookfield. As founder and CEO of the Millennial Action Project, he's been leading conversations with young lawmakers that reach across the political divide.

"The premise of this podcast is to take those conversations we've been having across the state of Wisconsin to the next level," he told WisBusiness.com in a recent interview.

But he says the show will go beyond politics in many ways, highlighting startup leaders, drivers of innovation, and others willing to move past divisive rhetoric.

The new show is a joint production of UW-Milwaukee and WisPolitics.com/WisBusiness.com, produced at UWM's Lubar Entrepreneurship Center. A formal launch party is being held Thursday at the LEC, where guests will get a sneak peak of the first episode of "Meeting in Middle America."

"I totally acknowledge that in some ways this is an ambiguous and intentionally provocative term," Olikara said. "What does 'middle America' really mean? And what do new opportunities, new ideas and new leaders look like from middle America?"

Each podcast interview will cover the personal journey of the guests, the projects and ideas they've been working on, and why these efforts matter to the entire country.

As an example, he pointed to the significant national challenge of spurring entrepreneurship outside of places like Silicon Valley, Boston and New York.

"We have young entrepreneurs taking root in the Midwest for a number of reasons," he said. "They're finding strategic challenges to take on and solve that really matter. That affects policymakers across the board, but also affects a national audience."

He noted the term "entrepreneur" can be broadly applied, with young leaders driving change and improvement across politics, business and technology, as well as culture and the arts. He wants to shine a brighter light on these young changemakers, not just to give them a louder voice, but because the solutions they're developing have "a real impact" beyond the Midwest.

"I've noticed that the way our leaders at the Millennial Action Project work together and build innovative solutions doesn't have a space in the national political dialogue," he said. "Young leaders, they want to get beyond the partisanship. That's the spirit that we want to bring to the podcast."

The new show will be available on a number of digital platforms including Apple Podcasts and Spotify, WisPolitics.com, WisBusiness.com, uwm.edu, millennialaction.org and YouTube.

See more event details and register here: http://www.eventbrite.com/e/meeting-in-middle-america-podcast-launch-party-tickets-89800480655
–By Alex Moe
WisBusiness.com