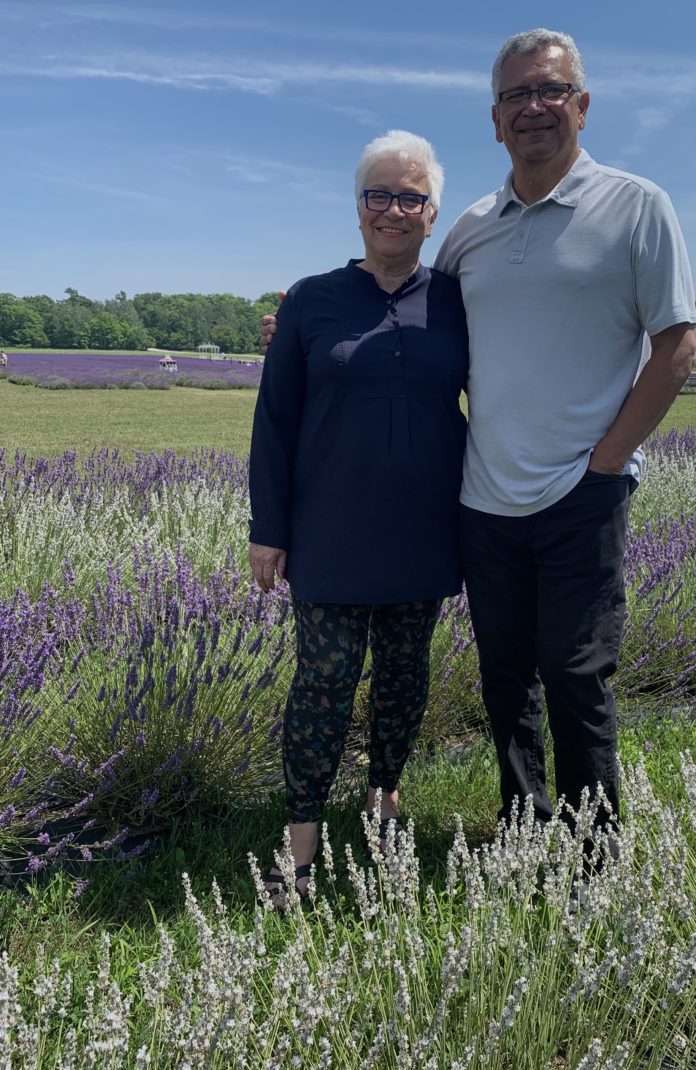 Some of Martine Anderson's fondest memories of her 20s — when she lived in the south of France – are the deep blue Provence sky and the pungent smells of lavender and thyme on warm summer afternoons.

"I will never forget the colors, the scents and the songs of the cicadas," said Anderson, who moved to the United States at age 27 and had a long career working for prestigious companies such as Saks Fifth Avenue and Neiman Marcus.

"For me, Provence was a little piece of paradise," she mused.

Anderson, who was born in Paris and grew up in Africa, dreamed of having her own lavender garden. But she never imagined that one day she'd be running a large lavender farm in northeast Wisconsin — surrounded by one of the Great Lakes.

That's exactly what Anderson and her husband Edgar are doing these days on Washington Island, a 25-minute ferry ride from the northern tip of the Door peninsula.

Edgar grew up in Honduras — where there is no lavender — trained as an architect in Florida and spent his career working for McDonald's Corp. overseeing construction, engineering and equipment for the company around the globe. He was constantly traveling, which he said wore him out. To relax, the couple frequently visited Door County for getaways from their home in Chicago.

The pair initially planned to simply retire to Washington Island after corporate life. But after they'd taken up residence, a group of residents were trying to come up with ideas to help the island economy. At a meeting, Martine raised her hand and suggested growing lavender.

"Everyone, including Edgar, thought I was crazy. But I thought it just might work here," she said in her thick French accent. She remembers attending a lavender festival in Sequim, on Washington State's Olympic Peninsula in 2007, she noted, and was impressed by the quality of the lavender and how many people the event attracted.

Eventually, she persuaded her husband to get on board. His research and test plots showed that lavender would grow well in the island's sandy, loamy soil. Using his background, he also created a business plan for what they thought would be a part-time enterprise.

Fragrant Isle opened in 2013. Since then, the couple has invested what Edgar calls a "very large sum of money" in 20,000 English and aromatic lavender plants in four fields, a large white gazebo and several arbors, a retail shop, a barn with a distilling operation, farming equipment and 25 seasonal and four year-round employees.

Now, the business is anything but a weekend effort, Edgar quipped.

"More like a time-and-a-half for us," he added, noting that the business has been growing steadily, with sales projected to increase by 20 percent over last year — even with the pandemic.

"We never thought it would be this big," he said. "If you're growing corn, 20,000 plants is nothing, but most lavender farms only have around 5,000 plants because they require a lot of manual labor. But now Fragrant Isle is one of the biggest in the Midwest."

He said both the business and the farm are evolving and may eventually expand to as many as 30,000 plants.

"We realized that it's not just the raw materials like the buds and the oils, but also the growing lavender itself that draws people here," he said. "They want to experience the beauty of the fields, which are an expression of Martine's French flair and are dotted with a large white gazebo and several smaller arbors."

Martine said she is the risk taker and is constantly coming up with new ideas. She's also in charge of choosing products for the 2,000-square-foot shop and co-creating lavender-inspired recipes — with the help of a retired chef — for their small cafe.

"When I start something, I don't stop," she chuckled. "Edgar is more steady. He is the finance guru. I always want to experiment, so we balance each other out well."

He said around 85 percent of their lavender plants are of the English variety. The remainder are aromatic, which come from the south of France and are somewhat more difficult to grow in northern climes.

The English plants are deeper colored, smaller and can be used in a wide spectrum of foods and other products. The aromatic plants, which are a grayish purples, have a stronger scent and are usually used in soaps and shampoos.

Martine said her favorite dish to cook with lavender is beef tenderloin. She starts with a coat of olive oil, followed with salt, pepper and garlic. The tenderloin is then crowned with lavender buds for a mouth-watering entree.

The largest building at the farm is a 6,000-square-foot barn where Randall Sorensen does his magic at a large copper still, turning lavender buds into what Edgar called "100 percent pure, therapeutic-grade essential oils" that are shipped to suppliers to create products dreamed up by Martine.

"Randy has quite a following," joked Martine. "Why, he's even had a few marriage proposals."

For several years, the farm hosted a lavender festival, which grew almost exponentially.

"It got too big and the ferries couldn't keep up with cars lined up on the peninsula for three or four hours on the mainland," said Martine. "We also needed 60 to 70 volunteers. It was great for sales, but it became crazy."

They dropped the festival, but kept all the successful parts going all season long and began charging $5 a person to enter the fields. They estimate they'll have 90,000 visitors this year spread out over the entire summer instead of a few days.

"The fee not only helps pay for the high cost of maintaining the fields, but customers appreciate the experience more because it is more peaceful," Martine said. "Just like a lavender farm should be."

The couple manages to take some time off in winter, but keeps busy the rest of the rest of the off-season preparing products for sale, planning, doing maintenance work and managing a plethora of other tasks.

"This isn't quite what we imagined retirement would be," Martine said. "But we are enjoying it and feel like we are doing our part to improve the economy of Washington Island so people can live, work and raise families here."

For more information on the Fragrant Isle Lavender Farm, see fragrantisle.com.

-By Brian E. Clark