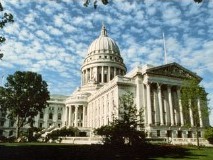 Gov. Tony Evers pledges a "buffer" to give people time to comply with a coming "safer at home" order.

Evers noted the federal government has posted a list of essential businesses. Still, he added there will be a "Wisconsin vantage point" to the list he will release.

"There's going to be a large number of businesses that will remain open, just like we've seen in other states," added Evers Legal Counsel Ryan Nilsestuen yesterday on a call with Evers and health officials.

They declined to provide specifics on what the coming "safer at home" order will look like other than saying it's expected to continue current policy allowing bars and restaurants to provide take out and delivery.

The Department of Homeland Security's Cyberspace and Infrastructure Security Agency on Thursday issued guidance on what qualifies as an essential service.

The list includes sectors such as: health care, including the manufacture of personal protective equipment; those supporting groceries, pharmacies and other retail that sell food and beverages; and infrastructure employees supporting the electrical grid, petroleum industry and natural gas.

Other industries on the list include: automotive repair and maintenance; air transportation; plumbers, electricians and others who maintain the safety, sanitation and operation of residences; and a host of manufacturing associated with transportation, energy, communications, food and others.

Leaders of the Metropolitan Milwaukee Association of Commerce say they support the escalated response, despite the hardships businesses in the state may experience.

"This decision by Governor Evers will add to our economic hardship, but it is also necessary to reduce the real health risks," said MMAC President Tim Sheehy in a statement. "The sooner we start, the quicker we get through to the other side."

Jonas Prising, MMAC chairman and CEO and chairman of ManpowerGroup, calls the outbreak an "unprecedented crisis."

"As business leaders, employers and health care providers, we come together to encourage the actions necessary to both minimize the health and economic disruption and protect our communities from the spread of this virus," Prising said.

Meanwhile, GOP legislative leaders are knocking Evers for creating "mass amounts of confusion" as details of his "safer at home" order were being held until today.

Evers told reporters on Friday he wasn't considering an order to shelter in place, but "will follow the science on that."

But during a conference call yesterday, Evers said he has been in constant contact with health experts and others about the quickly developing situation. He said that included business leaders who said it was "imperative" to order people to stay home to slow the disease's spread.

He said the coming order, which will be released today, wasn't something that he wanted to do. But he believed it was a necessary step.

"Overwhelmingly, the response I heard is that we need an all-hands-on-deck approach to stop the spread of COVID-19 in Wisconsin," Evers said, later adding, "Folks, all hands on deck means you, too."

Senate Majority Leader Scott Fitzgerald, R-Juneau, and Assembly Speaker Robin Vos, R-Rochester, said the guv's shift from his earlier position came as a surprise and was creating anxiety. They said the guv took a "measured approach" in past days and reassured businesses a shelter-in-place order may not be necessary.

They argued he needs to do a better job of explaining his decision and detailing his definition of essential and non-essential businesses.

"The people of Wisconsin deserve clear communications during a public health emergency," they said.

The guv said he didn't personally speak with lawmakers before announcing he will issue the order. But his office said staff was in contact with legislative leaders and their offices prior to and after yesterday's announcement. The office has also been providing a daily briefing to legislative leaders.

"COVID-19 is a rapidly evolving situation," said Evers spokeswoman Britt Cudaback. "Gov. Evers is relying on science and guidance from public health experts to respond to and manage the spread of COVID-19. The governor will continue to make the necessary, difficult decisions he has to in order to save lives in Wisconsin."

See the essential services guidance:
See the GOP statement:
Click here for links to resources related to the coronavirus: