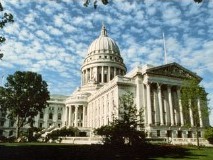 Gov. Tony Evers has declared a public health emergency to deal with the growing outbreak of coronavirus.

Within hours of Evers' announcement yesterday, state and Dane County officials announced two more Wisconsinites had tested positive. They were the seventh and eighth cases in Wisconsin, with seven of those discovered in just the past week.

"This declaration allows us to access state resources that deal with this pandemic head-on, care for those who need help and also limit the spread of the virus," Evers said at a news conference in the Department of Military Affairs' Emergency Operations Center.

The most recent cases are in Pierce, Dane, Fond du Lac, and Waukesha counties. The first known case, a person in Dane County who tested positive in early February, has recovered.

The first six cases were exposed to the virus while traveling. Department of Health Services Secretary Andrea Palm said five of the cases are under home isolation while the remaining case is currently hospitalized.

The two announced after the news conference had contact with a confirmed case that had been reported earlier this week.

Evers signed an executive order yesterday authorizing DHS to take the necessary measures to help prevent and respond to the virus.

Under the order, DHS can purchase, store and distribute medications as needed, regardless of whether people have health coverage. State funds are also authorized to help local health departments with costs related to quarantine and isolation.

The order also authorizes the Wisconsin adjutant general to activate the National Guard to assist in the state's response and directs the Department of Agriculture Trade and Consumer Protection to enforce prohibitions on price gouging during an emergency.

In addition to the cases already identified, DHS is working with the Wisconsin National Guard to transport 37 state residents who were on board the Princess Cruise Ship and may have been exposed.

Brig. Gen. Joane Mathews said 30 soldiers and airmen will help transport the cruise-goers back to the state, where they will be met by DHS personnel and will be in monitored self-quarantine for two weeks.

Matthews said the troops involved in the mission will also isolate and self-monitor for a two-week period.

Palm also unveiled a new set of DHS recommendations aimed at stemming the virus' spread, including canceling events with over 250 people. That recommendation doesn't extend to public K-12 schools, which Palm said will remain open using different "tools and tactics."

"We understand that these significant steps are going to disrupt people's lives, but are making these recommendations to protect the lives of most vulnerable members of our families, our communities, and our state," she said.

Palm said DHS is recommending against traveling to California, New York and Washington, areas the Centers for Disease Control has flagged as sustaining community transmission. DHS is recommending those who do travel to those three states isolate at home for a two-week period.

She also said DHS intends to issue guidance on the elderly who are residing in long-term care and nursing homes.

"We have an inflection point now to lean in, to do some of these things in an aggressive way in an attempt to reduce the spread of COVID-19," she said.

Still, Evers wasn't ready to mirror Congress' decision to shut down the U.S. Capitol. He noted tours of the state Capitol had already been canceled and said his office is consulting with the Department of Administration and planned to make a decision "within a few hours or a few days."

But he said the pandemic has already affected how he operates.

"Most politicians spend all their time hugging and shaking hands and those days are gone," he said. "'Wisconsin nice' is going to have to have a different look to it in the future."