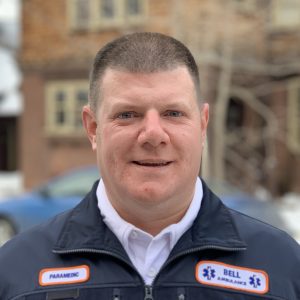 Emergency medical service groups are seeking a Medicaid rate increase for EMS workers as Wisconsin is poised to receive more than $2 billion in federal stimulus aid.

Organizations representing firefighters, ambulance drivers and other EMS workers are also asking state legislators and Gov. Tony Evers to include them in any waiver applications for additional aid.

"We are sometimes forgotten," said Chris Anderson, president of the Professional Ambulance Association of Wisconsin. "We are a small provider group compared to some of the bigger players, but what we do is vital."

Speaking during a webinar yesterday with leaders of these groups, Anderson (pictured here) said EMS was not included in lists from Evers and lawmakers detailing who will get assistance through federal financial aid. He noted hospitals, long-term care providers and others were listed.

The state is estimated to receive $2.3 billion in federal stimulus money, $1.9 billion of which will be under the control of Evers with no legislative oversight.

Wisconsin's recently passed COVID-19 legislation aims to help Wisconsin qualify for more federal Medicaid money, among other changes. That's separate from the $1.9 billion coming through the stimulus package.

During the webinar, Anderson said his group along with the Wisconsin State Fire Chiefs Association, the Wisconsin EMS Association and the Professional Fire Fighters of Wisconsin are requesting $7.5 million each year from the state budget going forward.

"We just thought that this year, having some stimulus funding available would be a good kickstart to that," he said. "But we want this to continue every year."

Speakers noted that Medicaid EMS rates have stayed flat for more than a decade, even as costs associated with doing their jobs have steadily risen.

"We beg and beg and beg, people to move — DHS, and the Legislature — for years now, and we just cannot move this boulder," said Jerry Biggart, board member for Professional Fire Fighters of Wisconsin. "And now, we're just at a crossroads. So we have to try to do things like this to get some more light shined on us."

According to Anderson, EMS workers across fire, rescue and ambulance services are using more personal protective equipment and sanitizing products than ever, even as prices for these products have increased.

"These are items that we used to be able to obtain for pennies in some cases," he said. "Surgical masks four months ago would cost us maybe 25 cents … an N95 mask would be less than a dollar. Now we're paying five or sometimes 10 times that amount."

He said for every call that ambulances go on, material costs have increased at least $35 per call. And that just covers the PPE and decontamination supplies, while additional wages and time spent cleaning add even more expense.

"It doesn't sound like a lot of money, but when you look at the number of responses we go on as a group, it adds up very quickly," Anderson said. "That's one of the main reasons we are asking for help."
–By Alex Moe
WisBusiness.com