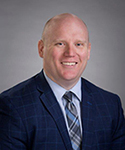 DWD Secretary Caleb Frostman called for increased funding from the U.S. Department of Labor to boost broadband in Wisconsin during a webinar hosted by the Regional Leadership Council.
"The things that make strong commerce possible for everyone, for small business for entrepreneurs, for big business in the state of Wisconsin even for our students… broadband is such a necessity, it's not a luxury anymore in 2020," Frostman said.
He noted the pandemic has highlighted the urgency of continuing broadband expansion in Wisconsin.
"Whether it's just filing for unemployment insurance online or trying to get intricate training for a new job or a new industry, it's still a glaring hole in Wisconsin's economy, in certain parts of our state," he said.
Without compromising the quantity and quality of jobs in Wisconsin, Frostman said DWD and its training partners are thinking about what training will look like coming out of this pandemic. He specifically noted apprenticeships such as plumbing that "have been going extremely well on a remote basis."
But in order to make these investments, the U.S. Department of Labor will have to change its funding formulas so Wisconsin can get ahead, according to Frostman.
"One of the issues with the DOL funding for workforce programming is that you get some of these big windfalls during recessions or pandemics, but then as the economy improves, which is a really great time to make investments in your infrastructure and your IT programming, those dollars dry up," he said.
The way the distribution formula works, according to Frostman, is that in a better economy, DWD gets less funding. But when there is a pandemic or recession, the dollars go to temporary expenses to deal with the crisis, not long-term infrastructure investment.
"Our biggest restraint is that we're operating on a 50-year-old based benefit system," he said. "It's frustrating, for lack of better words. I'm hopeful that there's a sense of urgency and enough visibility… that there would be a more equitable funding formula."
That funding would go toward things like broadband that would prepare Wisconsin for the next pandemic or recession.
"That would be a really helpful change in DOL's funding for workforce agencies across the nation," said Frostman. "We're hopeful that that sense of urgency remains, that we can get Wisconsin built out with adequate productivity across our state."
-By Stephanie Hoff
WisBusiness.com