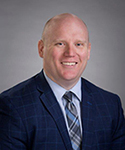 The Wisconsin Department of Workforce Development received 795,000 unemployment claims since March 15 or 4.6 million weeks of recurring claims, nearly three times the number of claims in all of 2019.

DWD Secretary Caleb Frostman told a Greater Madison Chamber of Commerce briefing the agency has hired and trained up to 1,400 new staff since March to help process those claims. However, the department is still facing a backlog.

"We have about 4.6 million weeks of unemployment insurance claims, so that's recurring claims, and of those 4.6 million, we've resolved about 4 million — we've paid or denied them — so that means 12.5 percent of folks that have filed are in adjudication," Frostman said.

He said that Wisconsin is known for having one of the most complex set up laws that require DWD to determine eligibility, and the "bareboned" staff had experienced a surge it had never seen before. That caused the backlog, he said.

With the Federal Pandemic Unemployment Compensation program of $600 per week from the federal government expiring tomorrow, Frostman said many unemployed workers would experience a setback. He said he's hopeful Congress will continue to provide supplementary assistance.

"If that's not renewed or some substitute isn't delivered from the federal government, that's really challenging," Frostman said. "The maximum you can get per week in Wisconsin is $370. Those folks will go from living on $970 a week down to $370 a week. That's going to have a huge impact on families but also on consumer spending in Wisconsin. Our economies will really lag — consumer spending is the largest component of GDP."

He noted that there's some appetite in Congress to do something at a lower level than $600 a week, and he would like to see the current supplement continue. But the key to economic stability, Frostman said, is to have coronavirus under control.

"We look at what is going to be the greatest determinate for ensuring economic stability, and to return to semi-normalcy, we have to have COVID under control before that happens," he said.
-By Stephanie Hoff
WisBusiness.com