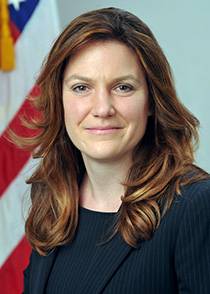 Wisconsin Department of Health Services Secretary Andrea Palm predicts the state's coronavirus peak will happen in the next three to six weeks. The peak and an extension of "Safer at Home" depends on how much in-person voting contributed to the virus spreading.
Palm told Wisconsin Manufacturers & Commerce in a webinar the prediction is based on how well Wisconsin continues to implement Gov. Tony Evers' "safer at home" order and "what the impact yesterday's election might have on transmission rate."
"We're going to have to deal that into our model as the data becomes more available and it becomes more clear what Tuesday did to us," she said.
The doubling time for infection has been closer to five days rather than 3.4 days in early March which Palm said "is a good sign."
"We believe at this point, based on our model, based on the four or five other models that are floating around, that our peak is anywhere from the next three weeks to probably six weeks," she said.
A second wave of COVID-19, or a fall wave, is expected based on the experience of previous outbreaks, according to Palm.
"I think everybody assumes that this virus will perform similarly and that you will see another wave in the fall into the winter," she said.
DHS is watching "folks around the globe" who have experienced coronavirus first "to teach us and let the virus teach us how it's going to behave longer term until we have real medical intervention," said Palm.
If there is a "bump" in coronavirus infections due to transmission from in-person voting on Tuesday, it may also indicate whether DHS recommends extending Gov. Tony Evers' stay-at-home order.
COVID-19 needs about two weeks to infect a person and leave their system. According to Palm, a one-month order is recommended, because it allows two of those infection cycles to "break the chain of transmission."
But she fears the election may have jeopardized that.
"Factors that we don't know yet is what the impact of Tuesday's apparition — with 'safer at home' — what sort of impact that might have on transmission, and whether folks going to the polls and standing in line will create a bump in our infection rates," said Palm.
While it's too early to tell what DHS will recommend, she said the election data could influence DHS's decision on the need to extend "Safer at Home."
"It is absolutely our goal to return to as normal a business life as possible, as quickly as possible and move into a place where we are being surgical in the way we are responding to this," said Palm. "We can't live like this until there is a vaccine, that's just not tenable, we just can't. But how we phase and put our foot on and take our foot off the gas as it relates to social distancing and physical separation needs to be informed by the state of the outbreak here in Wisconsin." 
-By Stephanie Hoff
WisBusiness.com