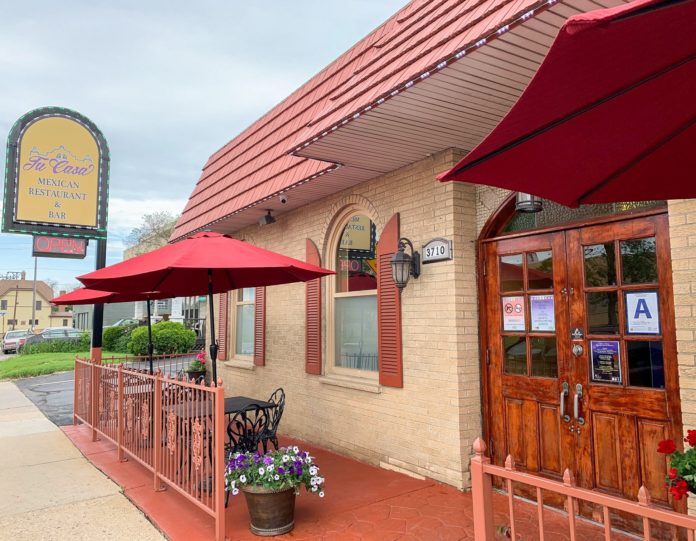 Wisconsin cities across the state offered coronavirus relief grants to local businesses to make up for losses during the economic shutdown.

In southeast Wisconsin, Tu Casa Mexican Restaurant of West Lincoln Avenue, Milwaukee was one recipient of 548 established small businesses that received a RESTART grant from the city.

Milwaukee distributed more than $4.1 million through the federal CARES Act starting in July. Eligible businesses had 20 or fewer employees and $2 million in annualized income. The grants were up to $15,000 for personal protective equipment, physical changes to the business to improve safety or replenishing perishable inventory.

Tu Casa was awarded $12,785, according to manager Matt Roman Lopez.

"We applied to help us stay open and provide safe services to our customers and a safe place to work at for our employees," he said.

The restaurant bought floor stickers, posters, sanitation equipment and PPE for staff, which boosted consumer confidence as well as limited service interruption due to sick employees, Lopez explained.

"Having these tools available allowed us to easily apply for the city's 100 percent capacity which is another vote of confidence for our customers," he added.

Jeff Fleming, spokesperson for the City of Milwaukee, said Milwaukee Mayor Tom Barrett is looking into the possibility of another round of city RESTART grants.

"More information on that will be shared in the coming week," he said.

Lopez said Tu Casa Mexican Restaurant "absolutely will" apply for additional grants.

"As fall/winter approaches we are concerned with the loss of our patio and our guests concern with dining at restaurants," he said. "It will take everything we have to get through the winter and any help would be appreciated."

Two hours north, Green Bay's Department of Economic Development is working on launching a grant program with federal CARES Act money.

The city currently has a small business pandemic relief loan, a 12-month deferred interest loan of up to $10,000. Since early April, six businesses have received a loan of $5,000 each — leaving $70,000 still available in the pot.

But the department's project manager, Wendy Townsend, told WisBusiness.com that businesses haven't wanted to take on more debt, even with "super low" interest and deferred payments.

"The community is nervous about taking on additional debt. It makes the business owner a little anxious that they have yet another responsibility kind of looming at some other point in time," she said. "The grant program is what more people are needing than taking out more debt."

Late last week, Townsend's team had begun paperwork on a grant program — using CARES Act dollars and potentially the extra money from the relief loan fund. While the grant process is still in its early stages, she didn't know when the funds would be available but is looking to launch "as soon as possible."

She noted that hospitality and retail have been the most heavily hit by the pandemic and economic shutdown. While restaurants have done some creative things, such as outdoor dining rooms, Townsend warned winter is not far away.

"We're trying to be as creative as possible," she said of helping businesses plan for the colder months.

Meanwhile, Townsend's biggest message is for any business to get in touch with the economic development arm of the city if they have a need whether its funding, licensing or outdoor seating.

Three hours west in downtown Eau Claire, the show went on as soon as allowed at the Eau Claire Children's Theatre. ECCT was shut down at the start of the pandemic as a nonessential business. The theater started applying for grants and holding virtual fundraisers to keep on 10 employees and pay the bills.

The theater was awarded a $1,500 grant this summer from Downtown Eau Claire Inc. DECI released $46,500 in grants to 31 businesses. Each business received $1,500. But even with the extra money and a reduced revenue stream since it started limited production in June, the theater has had to make cuts.

ECCT Executive Director Wayne Marek said the theater refinanced its mortgage, let go two full-time staffers and reduced hours for two part-time employees. The audience and performers wear masks, the building is at half capacity and people do a health check as they come in.

"Producing shows at half capacity does not allow you to bring in the revenue that you need either," he said. "It has to be a combination of grants and loans and expenditure cuts and trying to make some revenue off of the product."

Arts groups and live venues can't do curbside pickup, drive through or carryout model, Marek added.

"We must have an audience," he said. "We don't have as many options as some other businesses do to provide their products; we must have an audience."

While Marek praised the city's efforts as crucial and helpful to prevent closures downtown, including multiple rounds of grants for nonprofits, he admitted that nobody can stay open with a $1,500 grant alone.

"These are not $50,000, $20,000 grants that are going to keep businesses open for months. They're going to help you with one payroll…they will pay a couple bills," he said. "Without larger dollar amounts, either from federal funding or large grants from some source, many organizations will just close."

The City of Eau Claire's Economic Development Division was approved yesterday to distribute $500,000 in low-interest, 12-month deferral loans for small businesses. Businesses are eligible today for between $5,000 and $100,000 — the amount is scaled based on years of operation.

The money comes from the federal CARES Act through the Economic Development Association, according to Eau Claire's Economic Development Manager Aaron White.

"Our strong push for this one is going to be for the smaller loans," White said. "We have four other revolving loan funds that are not interest free but are low interest that we can do for larger projects."

Without sufficient aid, Marek said not just art groups, but breweries, group health and restaurants "are not going to open and they will not ever reopen."
-By Stephanie Hoff
WisBusiness.com