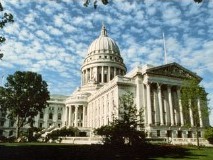 Legislation to reimburse cancer clinical trial participants for related expenses is being hailed as a step forward in the field of cancer research.

Dr. James Thomas is a medical oncologist with the Medical College of Wisconsin. He says clinical trials for cancer benefit society as well as the patients involved, as the treatments being tested often represent their best chance at survival.

"The faster we can recruit patients to clinical trials, the faster we complete clinical trials," he said last week during a public hearing held by the Assembly Committee on Health. "Then we can answer questions and cancer research can move on, and we can come up with new and better treatments for this devastating disease."

According to the Wisconsin Cancer Council, cancer is the leading cause of death in the state with over 11,000 patients dying from the disease each year.

MCW currently has over 160 active cancer clinical trials with participants coming from all over the state. Thomas says the new bill would ensure that travel and lodging costs won't be a barrier for rural residents and others looking to get involved.

The bill has the support of MCW, Marshfield Clinic Health System, the American Cancer Society Action Network, the UW School of Medicine and Public Health, the Wisconsin Medical Society and the Wisconsin Nurses Association. It was authored by Sen. Dale Kooyenga, R-Brookfield, and Rep. Bob Kulp, R-Stratford.

During last week's hearing, a research assistant from Kulp's office noted cancer clinical trial patients are traveling longer distances to reach treatment facilities, which can pose challenges for residents of remote areas.

"In addition, expenses that aren't covered by cancer clinical trial sites or sponsors can be significant," said Laura Riske, pointing to things like airfare, parking fees, and lodging during treatment.

She said the National Cancer Institute has confirmed that out-of-pocket expenses associated with clinical trials "can add up very quickly" and discourage participation.

"These financial barriers undermine equitable access and can result in low participation and a lack of diversity in clinical trials, which may threaten the advancement of cancer clinical trial research," she said.

In early 2018, the USDA provided guidance clarifying that reimbursing patients for costs associated with cancer clinical trials isn't considered coercion or undue inducement.

"AB 542 is complementary to FDA guidance from January 2018," Riske said. "It makes it clear that such funds are reimbursements to assist patients with out of pocket expenses associated with clinical trials rather than payments to encourage their participation."

According to Thomas, curing cancer is the Medical College of Wisconsin's top research priority. He says scientists at the Milwaukee-based school have been exploring the use of engineered white blood cells to fight cancer, called CAR T-cell therapy.

"This is where we take out your white blood cells, we genetically transform them, and put them back in your body to fight the cancer," he said. "It's very new, very exciting, and it's actually very, very promising."

He said MCW currently has two dozen active trials in this area and one of those trials has yielded some significant results.

"At our final dose level, these patients with lymphoma that had exhausted all therapies — they had nothing left from standard medical treatments to offer them — every single one of those patients went into complete remission," Thomas said. "This is only because they could go on a cancer clinical trial."

See the bill text: http://docs.legis.wisconsin.gov/2019/related/proposals/ab542
–By Alex Moe
WisBusiness.com