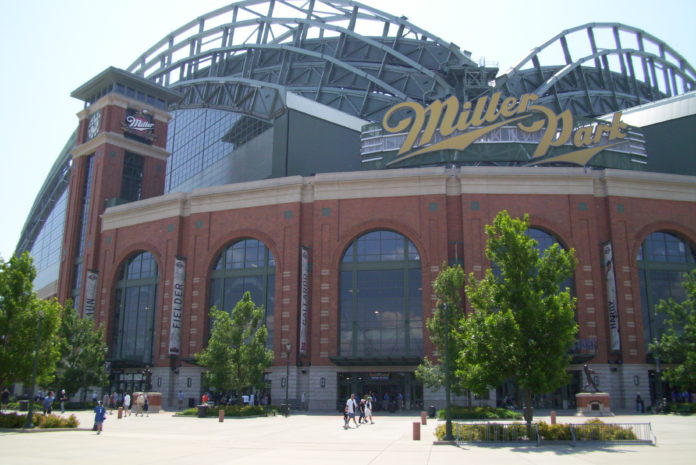 Athletes and sports teams have taken an increasing role in addressing social issues as Wisconsin and the nation deal with challenges brought on by COVID-19 and what some are describing as an epidemic of racism.

Baseball has a history with social justice in the country with Jackie Robinson breaking the color barrier on April 15, 1947, and former Commissioner Bud Selig declaring baseball a social institution that has to listen to society, promote social issues, and be a leader.

Brewers players unanimously decided to boycott Wednesday's game in response to the shooting of Jacob Blake in Kenosha County, just 45 minutes south of Miller Park's front door.

"Baseball and sports are frankly, taking a leadership role," said Rick Schlesinger, president of Business Operations for the Milwaukee Brewers. "As an institution and as an organization, we hope to be… in the conversation. We're not overstating our role, but we have a platform. You're now going to see sports teams and players take on leadership roles in politics and issues in society, and that's probably not going to change."

Schlesinger told a WisPolitics.com-WisBusiness.com event the team's community outreach has included regular video calls with community leaders to understand the perspectives on social justice and the history of Milwaukee's issues with race and poverty.

Kelly Jo Golson, chief marketing officer at Advocate Aurora Health, praised its MLB partner for improving the community. Aurora has served as the official healthcare partner for the Brewers for almost three years.

"The other key commitments we have that we look for with our partners is a brand that shares our commitment to together improve our community, and we have seen that with the Brewers," she said.

Both the Brewers and Advocate Aurora are a part of the Metropolitan Milwaukee Association of Commerce's Region of Choice initiative that aims to grow the diversity of workforce and management and make the Milwaukee area more attractive to diverse talent.

"I think it's a great attribute for Milwaukee to be home to the Brewers, the Bucks… having the voice of the players I think just adds a richness to the diversity in the community and is an important part of what makes this a great place to live, work, play and learn," said MMAC President Tim Sheehy. "I think having these organizations anchored here in the community will help us in this instance see ourselves through a different lens."

The Brewers have also taken a stand for health care during the pandemic in spreading the message of the community's safety coming first. When the pandemic started to unravel in Wisconsin in early March, Aurora Advocate had 17,000 team members on the frontlines.

"We really reached out to the Brewers in saying this is when you use the power of your megaphone to do something bigger than baseball," Golson said. "(COVID-19) underscored the importance of why you truly partner and what partnership is about."

Part of keeping the community safe is eliminating mass gatherings — and fans from the stands. Those stands are turning 20-years-old next year and the Brewers had a doubleheader last night. But the normal Brew Crew of 44,000 fans couldn't be there.

Schlesinger said the organization is looking at the big financial picture, not just this year. His adjusted metric: the "joy to the community" brought by the return of baseball.

"That's not a bad way to look at success," he said. "What we need in 2020 is joy, and there's nothing wrong with people saying 'look to baseball'… for some excitement, for something optimistic."

Schlesinger deemed Miller Park as a testimony to a great public-private partnership that resulted in a retractable stadium, an improved revenue stream and a more competitive team on the field.

But the pandemic has forced the organization to relook at the business: staffing, structure and communication with fans. Schlesinger noted that it's been a "brutal year" as the business relies heavily on the in-person experience. Most of the organization's revenue is generated through ticket sales, parking and retail. And he said it's "unrealistic" to have fans in the stands this pandemic-shortened season — even if the Brewers make the playoffs.

Not only is the team losing revenue, but Milwaukee is losing out from the 1,800 jobs and $2.5 billion bounty generated by Miller Park and team-generated revenue of $236 million, with roughly $17 million of that from players' income tax, according to Sheehy.

He added that only 38 percent of Brewer game attendees come from Milwaukee County, the rest come from around the state and out of state.

"I wouldn't call this a silver lining, but if you want to know what it looks like without baseball, here it is," Sheehy said. "You can really see the stark contrast of not having baseball in a community and having baseball."

Golson agreed in saying: "If there was ever any awareness of the value that the Brewers provide for this community, certainly economically, it's now."

Looking ahead, Sheehy and Golson agree the biggest challenge to bringing fans into stadiums, customers into businesses and patients into hospitals is restoring consumer and employee confidence.

But when the day comes for brats and beer in the parking lot or in a seat along the third baseline, Golson said she thinks "the world of a fan experience is likely forever altered" as Miller Park moves towards a new normal.

Schlesinger said ballpark changes may include more digital ticketing and less human contact overall. Even with a vaccine, the new normal may not include full stands either, at least not in 2021. If that's the case, capacity restrictions may result in a lottery system for ticket holders. He noted that the NFL, NBA and MLB are all sharing data for best practices.

"Even if we have a vaccine, it's going to require a lot of attention, a lot of thoughtful deliberate thinking on mass gatherings. We need fans to feel comfortable in mass gatherings," Schlesinger said, adding that the organization needs to also be in lockstep with health and elected officials.

"I'm hopeful we get back to it soon, not just from the perspective of having a brat and a beer at the ballpark, but what it means to this community and the ability to bring…. diverse members of the community together in one place to celebrate something we all recognize," Sheehy said.

Watch a recording of the event: https://www.youtube.com/watch?v=PdXLIHek99U
-By Stephanie Hoff
WisBusiness.com