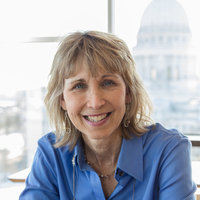 This week's episode of "WisBusiness: the Podcast" is with Lisa Johnson, CEO for BioForward Wisconsin.
She discusses the upcoming Wisconsin Biohealth Summit and provides an update on an initiative first launched in 2017 called Women in Biohealth.

The initiative held nine events last year covering professional development and networking within the industry, and more events are being held this year.

"And actually making them also connect with women outside of their companies, so they're understanding how important that is to advance their careers," she said. "We're getting a lot of interest from elsewhere in the country about what we've done, because it was ground-up. It wasn't some big national organization… We did this on our own."

The annual Wisconsin Biohealth Summit showcases what biotech and biohealth companies in the state are doing, with a focus on the future of the industry. The event is being held Oct. 2 in Madison.

"We're also bringing in people from the outside, that we think are good compliments to some of these individuals, that can expand on some of our topics like imaging alongside artificial intelligence," she said. "We don't want to stay just in our own little world in Wisconsin. We also want to hear about what's going on elsewhere."
Listen to the podcast below, sponsored by UW-Madison: