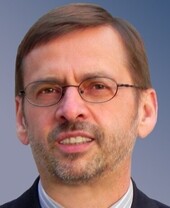 This week's episode of "WisBusiness: the Podcast" is with Doug Stafford, president and CEO of Pantherics Inc., a Milwaukee startup developing a pill-based alternative to treat asthma.

His company spun out of research from UW-Milwaukee, focused on ways to treat various inflammatory diseases of smooth muscles, including asthma, irritable bowel syndrome and other conditions.

"In asthma, there's inflammation in the lung, and as a result of the inflammation, the muscle in the airways contract and that's responsible for the difficulty breathing," he said. "But it's not just in the lung — there are other conditions in other organs in the body that have a similar disease process."


Stafford, who's also the director for the Milwaukee Institute for Drug Discovery, explained his company is approaching the problem with a platform technology to create new drugs for various inflammatory diseases.

"The current treatments, even in asthma, are unsatisfactory in many different ways," he said. "Drugs are either not very effective, or in the case of steroids that are used in asthma, there are many adverse effects."
Listen to the podcast below, sponsored by UW-Madison: