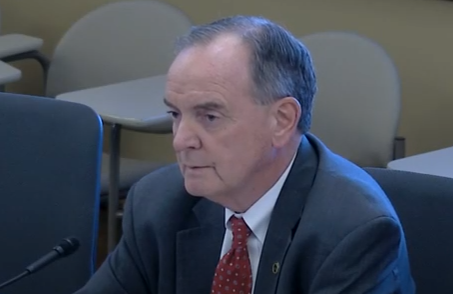 WEDC Secretary and CEO Mark Hogan says the agency "will always disagree" with the Legislative Audit Bureau on how the state should manage loan revocations when companies don't follow through.

"Our guidelines are clear; there's just a difference in interpretation as to how they should be handled," Hogan said yesterday before the Joint Legislative Audit Committee, which heard from WEDC and LAB staff on the most recent audit of the economic development agency. This was Hogan's last appearance before the audit committee, as he's leaving his post this fall.

WEDC has not made any performance-based loans since 2017, Hogan said. But the agency still has 13 loans on the books for about $11 million, and Hogan expects those will be paid off in the next five years or so.

In his remarks, Hogan explained that under WEDC's interpretation of statute, if a company got a $1 million WEDC loan and had to create 100 jobs to have it forgiven, the company could still have a percentage of the loan forgiven based on how many jobs were created. For example, if the company created 75 jobs, Hogan says WEDC would forgive 75 percent of the loan, or $750,000.

"The Legislative Audit Bureau's position would be, you did not create the 100 jobs, so you should get zero — it should be all or nothing," Hogan said. "We will always disagree on that."

He also identified another point of disagreement with LAB, related to requirements for creating and retaining jobs. If the company has created jobs but failed to maintain the required number for a period of time specified in a contract, WEDC would still say the company complied if it managed to reach the required number by the end of the contract.

By contrast, LAB's stance is that the company must reach the required number of jobs and maintain that level throughout the course of the contract in order to fulfill the requirements.

Joe Chrisman, state auditor for LAB, highlighted some of the audit's recommendations aimed at assessing "actual program results and outcomes."

"I think the question for all of you as policymakers should be: of our many economic development tools, which ones are producing outcomes and results that would warrant some additional funding or a change in funding?" he said.

He noted that certain contract verification requirements for WEDC were changed in last year's extraordinary session, requiring the agency to perform an annual sample verification process for new jobs. He focused on the value of carrying that out "in a timely way" at least once per year.

"WEDC has yet to achieve timeliness in that sample verification," Chrisman said. "That will become important, I think, in looking ahead."

He also stressed LAB's emphasis on improving the quality of information available for awards WEDC has made, as well as enforcing contracts as written when deciding to close awards.

Hogan focused on improvements WEDC has made over the course of the four WEDC audits, noting the number of recommendations made by LAB has declined with each successive report, from 24 in May 2015 to 10 in the most recent audit.

"It is important for WEDC to foster an environment where finding ways to continually improve our processes and procedures is both encouraged and expected," he said. "As part of this culture, we are committed to addressing all of LAB's current recommendations, just as we have with recommendations from prior audits."

The discussion turned testy at one point when Hogan criticized committee member Sen. Tim Carpenter for a perceived lack of understanding.

The Milwaukee Dem was discussing WEDC's involvement with naming rights for the Milwaukee Bucks arena in Milwaukee, when Hogan interjected to ask Carpenter if WEDC has signed any contract related to those naming rights. Carpenter is a member of the WEDC board.

Carpenter began to respond, saying "I think we voted on it, and it's out there, so…" but was cut off by Hogan who said: "You always have about 70 percent of the facts."

As Hogan continued speaking, Carpenter became visibly upset and raised his voice, calling on Committee Chairman Sen. Rob Cowles to step in.

"Hold it. Hold it. Take a deep breath gentlemen. We've gotten this far," said Cowles, a Green Bay Republican.

Hogan apologized twice as Carpenter pressed the issue.

"I don't remember anyone ever serving on a committee where somebody makes a comment like that, and I don't appreciate it," Carpenter said.

See a WisEye video of the hearing: http://wiseye.org/2019/08/20/joint-legislative-audit-committee-33/
–By Alex Moe
WisBusiness.com