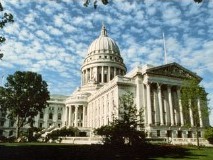 As prescription drug prices continue to rise in Wisconsin, a task force created earlier this year will explore strategies to stem the tide.

The first meeting of the Governor's Task Force on Reducing Prescription Drug Prices was held yesterday, marking the start of a nearly year-long process that will end with a recommendation report planned for fall 2020. The group was created by executive order in August, and members were announced last month.

"We're not coming into this with a preconceived set of outcomes of where we're going to end up," said Deputy Insurance Commissioner and Task Force Chair Nathan Houdek. "We don't have the answers today. That's why we're going to be doing this work together over the next few months."

Starting with a Milwaukee meeting in January, the task force plans to meet each month at locations around the state, with each meeting highlighting a different segment of the prescription drug industry. Houdek said the first meeting will likely center on pharmacy benefit managers, while others will hit on manufacturers, wholesalers, insurers, pharmacies and the consumers themselves.

Consumers in the state are estimated to spend $1.3 billion on prescription medications this year. And prescription drugs make up nearly 10 percent of all health spending in the country.

Anna Benton, designee deputy Medicaid director for the state, represents the Department of Health Services on the task force. She noted the state's Medicaid program "actually has a very well-run pharmacy program" that's held up as a model by other states across the country.

"But still we pay over $1 billion per year for drugs for Medicaid recipients," she said. "And our costs are greatly increasing, so it's a huge concern to us."

Michael Goldrosen, a doctor of internal medicine at Associated Physicians in Madison, spends most of his time taking care of patients. He sees the direct impact of drug costs on patients across the spectrum, whether they're insured through Medicaid or Medicare, privately insured or have no insurance at all.
"It's not going to be easy," said Mark Afable, state Commissioner of Insurance. "There's no quick fix to it. But I really do think we can move the needle in the right direction."

Task force members identified a general lack of transparency as one of the major factors behind rising drug costs, noting that will be a focus in many upcoming discussions. Goldrosen explained that for both consumers and doctors, the actual price of prescription drugs can be effectively hidden.

"I don't think that consumers necessarily have a good understanding, probably, of what the drugs cost," he said. "So if they have a $50 co-pay, they don't realize that it's an $800 drug."

But as a primary care physician, he says he's usually also in the dark when it comes to the price of certain medications. He says he wasn't aware in recent years that the cost of an Epipen had increased to $800 per pen, or that topic estrogen products have now reached similar costs. So too with acne treatments, which have increased in price and now cost hundreds of dollars.

"If I was a subspecialty oncologist that only used 15 products — extremely expensive products — I know what they cost," he said.

But as a primary care internist, Goldrosen sees as many as 2,500 patients per year, writing thousands of prescriptions for thousands of different products.

"What I need is a way, really at the point of care, that I can see what it costs," he said, adding this function could be added to electronic health records systems.

By comparing the actual cost of medications and matching patient needs with affordable choices, he says "it can cost a lot less … without doing anything with the retail cost of medication, I can make a better-informed choice."

Alan Lukazewski, director of clinical pharmacy for NeuGen LLC, says drug cost burden could be lowered by "getting rid of unnecessary, uneffective and unsafe medications using lowest cost alternatives that are proven to be effective."

"I think we can have a very value-based system to lower costs and improve outcomes," he said during yesterday's meeting. "I'd like to see everybody have their success, but I think we need to have a broad conversation to understand where we can drive the cost of health care lower."

As part of the discussions moving forward, the task force will examine strategies being pursued in other states, looking at both legal challenges and early outcomes. At the national level, more than 130 bills been introduced to reduce prescription drug prices, and federal agencies are working on initiatives with the same goal.

See the full list of task force members: http://content.govdelivery.com/accounts/WIGOV/bulletins/26851bb

See an earlier story on PBMs: http://www.wisbusiness.com/2019/independent-pharmacies-feeling-squeezed-by-pharmacy-benefit-managers/