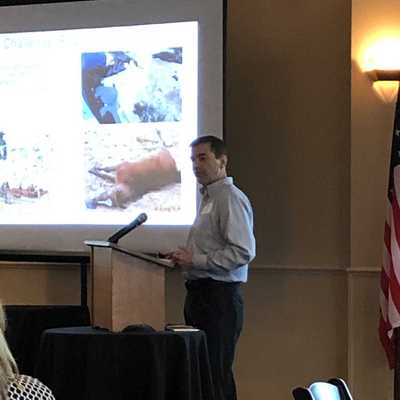 A startup called SpayVac-for-Wildlife plans to submit an animal birth control vaccine product to the EPA before the end of the year, and founders aim to hit the ground running once approval is secured.

CEO Tom D'Orazio says he expects the EPA to approve the product within 10 months, but he's not wasting any time developing connections and strategies for entering the animal control market.

He says company leaders are hashing out the details of a USDA deal in which the Fitchburg company could generate some new shared intellectual property. And he sees an opportunity to work with the U.S. Bureau of Land Management to help reduce the number of wild horses on public lands used for cattle grazing.

Current methods for controlling wildlife populations including surgical spaying as well as killing the animals outright, both of which can be costly and difficult processes, D'Orazio said.

"A vaccine is very cheap and efficient compared to that," he said at a recent Wisconsin Technology Council luncheon in Madison. "Not only is it innovative, but it's a human solution to a big and expensive problem."

He says over one billion "overabundant" mammals are causing damage to ecosystems and economies all over the world. That includes horses, deer, seals, monkeys and even elephants, as well as hundreds of millions of cats and dogs.

"We really struggle with how to control these burgeoning populations," he said. "Our solution has always been to kill them. It's never worked, and they always continue to grow."

D'Orazio explains that when a portion of an animal population is killed, that population can often rebound quickly, because "you just leave more resources and less competition for breeding animals to bounce back."

When a target animal is inoculated with the SpayVac birth control vaccine, it develops certain antibody proteins programmed to activate when the animal ovulates, blocking sperm from reaching the surface of the egg. D'Orazio says competitor products take a similar approach, but require multiple doses and ultimately falls short of what he says SpayVac can deliver.

"Even then its efficacy rates don't approach what ours have with a single dose, which is really the key," he said.

D'Orazio says the company is looking to raise $1.3 million to develop its portfolio of vaccines. He and the two other co-founders have put in $320,000 to date, and have also landed a grant sponsored by the American Cattlemen's Association and the Public Lands Council.

"The next $300,000 we raise will be to launch our first product, and then we'd like to raise a second round of $700,000 to accelerate the pipeline we have," he said.

According to D'Orazio, about 240 U.S. municipalities have designated funding for programs aimed at reducing wild dog and cat populations.

"Cut the surgical spaying out and put in a vaccine," he said. "It's cheaper and you can do a lot more animals."

For example, he says Phoenix has budgeted funds for the next three years to spay 15,000 cats.

"If we had an effective vaccine on the market today, you could do that in one year at about half the cost," he said.

See a previous story on the company: http://www.wisbusiness.com/2019/spayvac-using-vaccines-to-control-wildlife-populations/
–By Alex Moe
WisBusiness.com