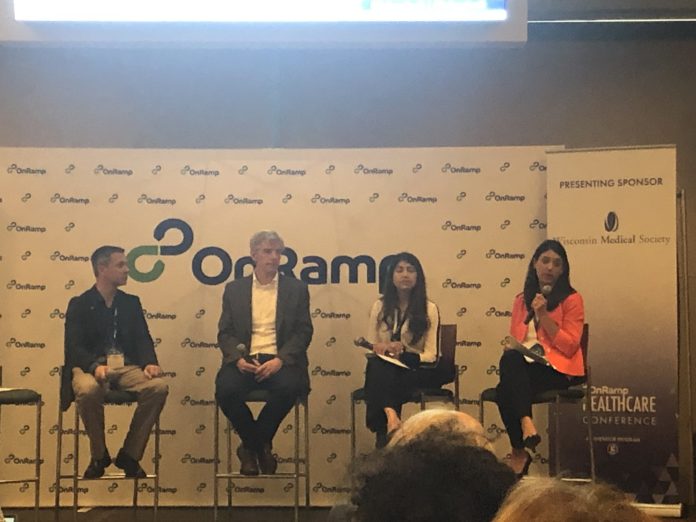 Achieving greater collaboration between various health care providers will take more community outreach and a new approach to data management, panelists at the OnRamp conference in Green Bay say.
"From the pharmacist's perspective, it's identifying what are the barriers for the patient and connecting them with the right resources," said Dimmy Sokhal, of Hayat Pharmacy. "What we're working on at my practice in Milwaukee is to collaborate with local community partners… The more collaboration the better."
She spoke yesterday as part of a panel focused on breaking down the silos of health care. Panelists touched on the waste and harm to patients from having these separate realms of care and discussed strategies for improvement.
Krisa Urchell, key accounts manager for Pfizer, noted a culture of distrust and misunderstanding between care providers, adding that contributes to burnout and sometimes worse outcomes for patients.
"The fallout is really vast and detrimental to all of us," she said.
As an independent pharmacist, Sokhal says she has no idea what happens to her patients when they go to the hospital or another care provider. She says some patients could be using multiple different pharmacies, and she would have no idea what medications are overlapping or potentially interacting in harmful ways.
To overcome this hurdle, Sokhal said her pharmacy has been visiting patients' homes for in-person consultations.
"And when we go to these patients' homes, it's just an eye-opener," she said. "I see [medication] bottles from different pharmacies, different prescribers, different hospitals… Most of them probably didn't know that this patient was just hospitalized, and what happened to their medications."
Certain patients are at particular risk, she said, such as older people with lower health literacy and a long list of needed medications.
Across the spectrum of care, data is being collected from patients like these and others at many different entry points. But according to Chris Elfner, vice president of accountable care strategies at Bellin Health, much of that information is being kept separate, which makes it difficult for providers to work together.
"Part of that is really getting the data, the piles of data which are out there — which are vast and wild — to bring them together," Elfner said.
He explained while both drugs and physicians have their own unique codes that allow for some degree of interoperability, patients' Social Security numbers can't be used in that way.
"So now we have to figure out a way to bring all that data together, and hook it up so we can look at the different pieces of it," he said. "There are always gaps, and we need to fill in those gaps."
In Brown County, where Bellin Health is located, Elfner said the county has a "cradle to career" community information system combining data from health care, schools, social programs such as daycare, and other sources.
He describes the project as a "grassroots effort that's bringing data together to tell the story of the community, and driving the health and wellbeing of the community."
Elfner also said providers must update their workflows to "think more broadly than our own little core team." Rather, he said they should be thinking of the entire group of providers across organizations that are responsible for patient care.
"Because the patient doesn't care whether it's health care, or primary care or specialty. They just want to be cared for," he said.
–By Alex Moe
WisBusiness.com