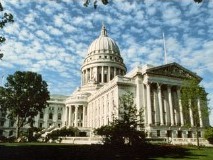 Rep. Adam Neylon is touting a Republican proposal to use Volkswagen settlement funds to place electric vehicle charging stations along major driving routes in the state.

At a recent event held by the Customers First Coalition in Madison, the Pewaukee Republican emphasized the potential for finding middle ground with colleagues. He was joined by Rep. Amanda Stuck, D-Appleton, a fellow member of the Energy and Utilities Committee and the Legislature's Future Caucus.

"There is this middle ground that we can find, and we can say you know what, we don't have to lose on this issue," Neylon said yesterday. "This can be a bipartisan issue… because everyone can benefit."

He detailed the GOP effort to take $10 million of the VW settlement allotted to Wisconsin after the car manufacturer violated the Clean Air Act and invest it in electric vehicle charging stations across the state.

The plan proposes putting those funds into a grant program that private companies could then bid on, creating a public-private partnership he says would appeal to both Republicans and Democrats.

Neylon focused on the economic development opportunity as well as reducing the burden on taxpayers, saying the plan checks "some key boxes" for Republicans. He stressed the cost of repairs and replacements would fall on the private companies, rather than taxpayers, as they would own the charging stations.

To appease the Dems, he said the plan would be good for the environment, as it would incentivize the use of cleaner electric vehicles.

"It's going to grow this economy in terms of renewable energy," he said.

Stuck didn't comment specifically on the plan to use the VW funds for charging stations but said energy and technology are topics for which lawmakers can reach across the aisle and find areas where they agree.

"There is so much interest," she said. "No matter where you come from on this topic, it impacts you, it's important to you somehow — whether you care about the environment, or about jobs."

Both Stuck and Neylon highlighted the collaborative nature of the bipartisan Future Caucus, whose members have traveled to other states to learn how others are examining forward-looking issues.

"As I'm talking with colleagues all around the country on either side of the aisle, there's a lot of agreement here around energy and renewable energy — whether it's through pure market forces or whether it's just from a moral perspective what you think we should be doing with energy," Stuck said.

Neylon sees the charging station plan as one opportunity for lawmakers to meet in the middle.

"Let's use things that appeal to both sides, and put out a product that's going to invest in Wisconsin's infrastructure, protect taxpayers, create jobs and grow our economy and create a sector that's slowly coming to Wisconsin," he said.

He noted electric vehicle charging stations are scattered across the state, including several in his home town of Pewaukee.

"But there doesn't seem to be a strategy in terms of how we can link these," he said. "And how someone could safely get from Milwaukee up to Eau Claire without worrying about how they're going to charge their electric vehicle."

Neylon stressed that the charging stations would rely on electricity created in Wisconsin, rather than out-of-state sources.

He also noted that younger people tend to care more about protecting natural resources and the environment more broadly.

"As Republicans, we can embrace that by looking at a way to adopt innovation and create jobs and help Wisconsin," he said.

Despite striking a positive tone in his remarks about the potential for collaboration, Neylon added that members of the Future Caucus rarely agree on anything.

He explained members of the caucus have been working to find a bill they could "run up a flagpole" as their signature piece of legislation.

"In two sessions, we haven't necessarily been able to do that yet," he said. "But what we have been able to do is come together and have civil dialogue and talk about our differences and build relationships and improve legislation that exists."
–By Alex Moe
WisBusiness.com