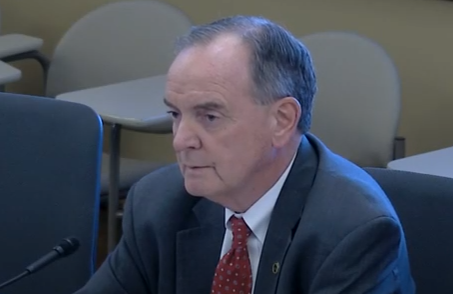 WEDC Secretary and CEO Mark Hogan will formally step down from the job Sept. 3, telling Gov. Tony Evers in a letter serving in the role has been "one of the great privileges of my life."
Hogan's departure will come shortly after Evers regains the power to appoint the agency head. Republicans during the December lame-duck session approved a provision giving that power temporarily to the Wisconsin Economic Development Corp. Board and adding more GOP appointees to the body in a move that was seen as an effort to protect Hogan from being replaced in the early days of the Evers administration.
In his letter, Hogan wrote that some thought his relationship with Evers couldn't work or "simply did not want it to work." But he praised the support he's received from Evers Chief of Staff Maggie Gau and DOA Secretary Joel Brennan.
"I appreciate the trust you have shown me over the past eight months to lead WEDC in a way consistent with my basic belief of trying to do the right thing for the right reason," Hogan wrote.
Hogan also noted in his letter that he was first appointed to the position by then-Gov. Scott Walker on Sept. 3, 2015, making his tenure with the agency precisely four years.
He first announced this summer that he planned to leave the job sometime this fall, but hadn't previously specified a date. Walker tapped him to lead WEDC after the agency struggled in its early years after replacing the old Commerce Department amid stories about questionable loan practices and other troubles.
Hogan testified last week before the Joint Legislative Audit Committee on the most recent review of the agency's practices, touting what he said are successes in addressing recommendations state auditors have made in recent years.
Meanwhile, multiple sources tell WisPolitics.com that the Evers administration has begun interviewing candidates to replace Hogan. The guv's office declined comment.
Read the letter.