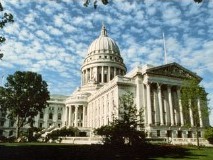 Pharmacists, patients and others in the state have formed a new group to support legislation that would establish new regulations for pharmacy benefit managers, or PBMs.

The Wisconsin Pharmacy Patient Protection Coalition has released a petition signed by 11,000 patients in the state supporting the effort. The group says similar bills have been introduced in all 50 states, and 33 states have recently passed new laws related to PBMs.

"What this legislation does is to finally hold the whole PBM industry accountable for their secretive actions that have hurt our state's most vulnerable patients by forcing them to unknowingly pay high prices for prescriptions," said Rob Gundermann, chair of the WPPPC and executive director of the Coalition of Wisconsin Aging and Health Groups.

The legislation would require PBMs to register with the state and establish new price transparency regulations. And it would create new requirements on contracts between PBMs and pharmacies, pharmacists or health benefit plan sponsors, according to analysis from the Legislative Reference Bureau.

In a release, the new coalition says the legislation would eliminate "intimidating gag clause provisions" in PBM contracts, which prevent pharmacists in some cases from informing customers of less costly options for medication.

And the legislation would require PBMs to make sure patients aren't denied coverage during a plan year if the treatment in question was covered when they enrolled or renewed, according to the coalition.

Dan Strause is owner of Hometown Pharmacy, which has more than 40 locations in the state. He claims PBM practices have created barriers for small local pharmacies, particularly in rural areas.

"We've seen patients suffering because they can't afford or get access to the prescriptions they need, all because the PBMs have manipulated prices and delivery options behind the scenes," Strause said.

He claims the new legislation would improve the situation for both pharmacists and the patients they serve.

Danielle Womack, vice president of public affairs at the Pharmacy Society of Wisconsin, calls the effort "common sense legislation" that would improve prescription access for patients across the state.

The coalition says more than 95 cosponsors have signed onto the bipartisan legislation. Sponsors include Sens. Jon Erpenbach, D-Middleton, and Roger Roth, R-Appleton; as well as Reps. Michael Schraa, R-Oshkosh, and Debra Kolste, D-Janesville.

Coalition members include the Coalition of Wisconsin Aging and Health Groups, Hometown Pharmacy, the AIDS Resource Center of Wisconsin, the state chapter of the Lupus Foundation of America, the Pharmacy Society of Wisconsin, the Wisconsin Medical Society, the Wisconsin Alliance for Women's Health and others.

See an overview of the Senate version of the bill: http://docs.legis.wisconsin.gov/2019/related/proposals/sb100

See an earlier story on PBMs: http://www.wisbusiness.com/2019/independent-pharmacies-feeling-squeezed-by-pharmacy-benefit-managers/