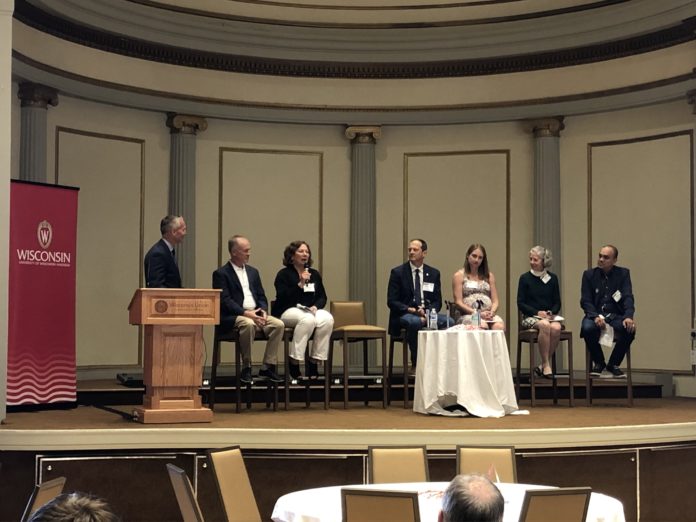 A representative for Foxconn Industrial Internet — one of the Taiwanese tech manufacturer's many subsidiaries — says Foxconn "probably did everything the wrong way" when it came to engaging with UW-Madison. 
Richard Vincent is chief business officer for Foxconn Industrial Internet, abbreviated as Fii. He spoke yesterday at an event organized by the university's Office of Business Engagement.
"You can imagine Foxconn Group is basically 100 separate companies with over one million employees," he said yesterday. "And everybody got the memo that they have to come to Wisconsin."
He says Foxconn representatives inundated the campus, sending groups of more than 50 people at a time.
"It just became overwhelming. … It was untenable to all sides," he said. "Group after group after group … so we kinda backed off from that. Lesson learned."
Now, he said Fii has had "some successes" in partnering with the university and is working on a number of different programs.
Fii has more than 200,000 employees and 40,000 engineers, with more than $64 billion in revenue. Vincent, who hails from Silicon Valley, says he's on a five-year assignment to expand Fii's business in Wisconsin.
"We are the advanced technology group of the Foxconn technologies," he said. "We are kind of the tip of the spear in tech innovation. We started engaging maybe six months ago … looking for ways to advance some of the initiatives we have here in Wisconsin."
He said Fii aims to tap into the "intelligence and research capabilities" of a number of groups on campus. That includes high-performance computing work, materials science and more.
"It will continue to advance as we start getting our story straight on what we're doing here," he said.
Vincent also said Fii is looking to recruit from the university. 
Panelists at the business engagement day at UW-Madison said partnerships between the university and companies should go beyond just hiring talented graduates.
"If you have a business question and you'd be interested in having us researchers consider it, we're really eager to talk with you," said Joan Schmit, the American Family Insurance Distinguished Chair in Risk Management for the Wisconsin School of Business. "If you have some data, that is tremendously valuable."
She says the university has worked with insurance companies that have data to spare, partnering to disentangle info that's useful to both the business and researchers. That includes insights on customers and how to reach them, as well as other info useful to students pursuing graduate degrees.
Jerry O'Brien, director of the Kohl's Center for Retailing in the School of Human Ecology, discussed a partnership with Lands' End in which students were brought on to help design "cutting-edge" fitting rooms for new stores.
When potential partners come in simply to snatch up skilled workers, O'Brien said the conversation usually doesn't progress very far. But when partners come in with a software trial, a case study to examine, or an offer to send a subject matter expert to a class, "now we're getting a richness that my faculty and our staff love."
Adrienne Bestul, senior manager of talent development for Dodgeville-based Lands' End, says she's proud of the partnerships her company has cultivated at the university. She said working with O'Brien has helped Lands' End find talent from various departments, ranging from finance to information technology to supply chain management.
"As an apparel retailer, that's an incredibly important part of what we have to do to be successful," she said.
–By Alex Moe
WisBusiness.com