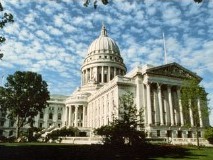 On the first overseas trade mission of his administration, Gov. Tony Evers plans to meet several leaders of Japanese companies with operations in the state including Fujifilm, Kikkoman and Komatsu, which is building a new facility in Milwaukee.

The guv departed Friday for the nine-day trip to Japan, leading a delegation of 28 members with 13 executives from nine Wisconsin companies, WEDC Chief Operating Officer Tricia Braun and UW officials.

He landed in Tokyo on Saturday before joining Wisconsin Economic Development Corp. staff for an in-country briefing that evening. Members of the delegation met with Wisconsin's sister state in Japan, Chiba Prefecture.

On Sunday, the governor addressed the 51st annual joint meeting of the Midwest U.S. Japan Association ahead of the group's conference this week. At the same event, former Wisconsin Gov. Tommy Thompson thanked Kikkoman Chairman Yuzaburo Mogi for investing in Wisconsin. A release from Evers' office shows the company launched its first overseas facility in Walworth more than 45 years ago.

The MWJA Conference started yesterday and runs through Tuesday. The guv is scheduled to meet with Japanese government officials and officials from Komatsu this week. David Callender, communications director for WEDC, said the schedules for the Wisconsin executives will likely vary by company. Participants in the trade mission get a customized market assessment from the agency to guide their efforts.

Japan is the fourth-largest market for export products from Wisconsin. Industrial machinery exports grew 44 percent in the first quarter of 2019, and other top categories include scientific instruments and prepared meat and seafood.

Companies in the state exported $735 million in goods to Japan in 2018. Last year's total exports were down from 2017, but they rose 11 percent in the first quarter of 2019 compared to the same period last year. And ag exports to Japan grew 21 percent in 2018.

Katy Sinnott, vice president of international business development for WEDC, says the best export opportunities to Japan are industrial and electrical machinery, and medical and scientific instruments.

"This is a mature market where opportunities come from developing and sustaining personal relationships, so face-to-face contacts are essential," Sinnott said in a release.  
The Wisconsin companies represented on the trade mission include Connoils of Waukesha, Craiger's Breading of Horicon, Frontdesk of Milwaukee, Graftobian Makeup Company of Madison, Gross Automation of Brookfield, Imbed Biosciences of Madison, OnLume of Madison, PIC Wire & Cable of Sussex and Silicon Pastures of Wauwatosa.

Other delegation members include: David Brukardt, vice president of corporate relations and economic engagement for UW System; Dennis Shields, chancellor for UW-Platteville; and Rose Smyrski, vice chancellor for university relations and chief of staff at UW-Platteville.

Callender said the guv's office will be issuing updates during the trip, and WEDC will be posting highlights on social media.
See more from WEDC on the trade mission: http://wedc.org/blog/governor-evers-will-lead-trade-mission-to-japan-in-september/