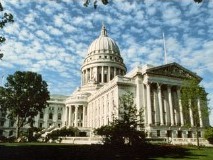 Gov. Tony Evers says the next generation of Wisconsinites will need to engage with others across linguistic, cultural and national boundaries to compete in the global economy.

That's from the guv's comments before members of the Midwest U.S.-Japan Association at its ongoing annual conference in Japan. Evers is joined by representatives of nine Wisconsin companies, as well as UW and WEDC officials.

In his remarks to the MWJA, Evers discussed the Wisconsin Language Roadmap Initiative, a UW-Madison initiative to ensure all students in the state gain proficiency in another language aside from English. He also highlighted growth in the state's organic agriculture and water technology industries.

"As concerns about the environment continue to grow, Wisconsin is leading the way to make agriculture both more sustainable and more responsible," he said.

He noted the number of organic farms in the state has doubled in the past 20 years. The state is ranked first in the nation for the number of organic farms growing field crops, and second for the total number of organic farms.

And with more than 200 businesses in the state working with water tech, Evers called Wisconsin "the Silicon Valley of water."

Evers met privately this week with: Yuzaburo Mogi, the honorary chairman and CEO of Kikkoman; Hiroyuki Ogawa, the president and CEO of Komatsu; and Shinichi Yasui, the executive vice president of Toyota North America.

According to a release from the guv's office, about 30 Japanese-owned businesses collectively employ more than 8,000 workers in the state.

The MWJA is made up of 10 states: Illinois, Indiana, Iowa, Kansas, Michigan, Minnesota, Nebraska, North Dakota, Ohio and Wisconsin. Five of the member states are attending this year's 51st annual conference.

Former Gov. Tommy Thompson is serving as the association's chair this year, and took over for Mogi after the Kikkoman executive's 16-year run as chair.

In a tweet, WEDC Chief Operating Officer Tricia Braun called Mogi a "true champion" for Midwest states and Wisconsin in particular. Kikkoman has had a presence in the state for more than 45 years.

WEDC is coordinating the trade mission for the governor and business leaders, who are meeting with Japanese executives this week after getting market assessments and guidance from the agency. The trip concludes Sept. 14.