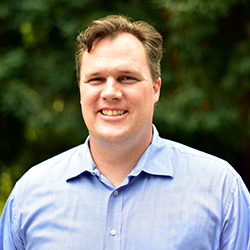 After a year and a half of behind-the-scenes construction at the former Oscar Mayer facility in Madison, developers are set to begin working on front-facing elements of the repurposed site.

"We're about ready to start a project where we redo the lobby and continue to do things that will be visible to the community as they drive by the project," said Nate Ellis, vice president of real estate at Rabin Worldwide, one of two companies preparing the location for new tenants.

He joined MadREP President Paul Jadin, Rep. Melissa Sargent, Madison Mayor Satya Rhodes-Conway, WEDC officials and others yesterday to announce a $250,000 state community development initiative grant supporting part of the $18 million redevelopment project.

The press conference was held in Building 20, a long, segmented industrial space that makes up part of the Madison site, which has been unused for about two years. Ellis said the building has been split into four suites, three of which already have tenants lined up.

In the past 18 months, Rabin Worldwide and Reich Brothers have been working on all new pipes, wiring and sewer systems at the site — "things that are not very visible, but very critical to having tenants," Ellis said.

Across the entire site, Ellis said 700,000 square feet of space have been separated off for occupancy. Aside from Building 20, which he described as a "flex industrial space," he said a cold storage facility and revamped offices are also ready for lease.

Ellis (pictured here) said the state grant is "fantastic" and provides important support for the ongoing project.

"There's a lot of heavy lifting to do," he said.

Other speakers emphasized the potential for community impact, also touching on the historical role the Oscar Mayer site has played in the Madison area. Before leaving in 2017, the company had been at the location since 1919, and it served as headquarters for the processed meats producer since 1957.

"I remember seeing trucks come in with animals on them, and knowing when there was smoking happening," said Sargent, a Madison Dem who represents the 48th Assembly District, covering north and east portions of the city. She grew up in Madison, and saw firsthand how the plant supported jobs and families in the community.

After ceasing production in August 2017, the plant was bought by 910 Mayer LLC, a partnership between Reich Brothers and Rabin Worldwide.

As part of yesterday's presentation, Rhodes-Conway laid out her vision for a neighborhood business district hinging on the redeveloped Oscar Mayer site.

"We've got so many assets in this area," she said. "I envision bus rapid transit right out here on Packers Avenue, connecting to the rest of the city and to the airport."

To her, the redevelopment represents the "second chapter" of the site's legacy.

"While I do have a big sense of excitement around this, I want to acknowledge that it's not always easy to do a project like this," she said. "There are some real challenges involved in taking a site like this that was single-user, and transforming it to the multi-user. I understand that work is almost done, which is exciting."

She added: "It's critical work to do, so we can get a number of different uses on this site, and look forward to future infill development."

In the past year or so, Sargent said her office has received visitors from Canada, Colorado and California, "who are really excited about the prospect of this being a hub for the cannabis industry in the state of Wisconsin."

Sargent has introduced bills to legalize cannabis in Wisconsin four times, most recently during the current session, about a month ago. The effort has faced consistent opposition from Republican leadership, but she says her latest bill has more co-sponsors than ever before.

Her confidence is spurred in part by changes to state and federal law that enabled growing and processing of hemp and selling related products in Wisconsin. Since the state began a pilot program for the crop, hundreds have signed up to take part in the revived industry.

"I've had people in my office who had envisioned this land, this facility being used to create equipment that is used in the industry," she told WisBusiness.com. "I have had people come into the office and talk about the factory portion, where Oscar Mayer used to manufacture their hot dogs and such, as an area that could be used for processing product."

She said others are eyeing the newly refurbished office buildings, imagining "hubs of ingenuity" including areas for licensing, distribution and collaborative workspaces for the hemp and cannabis industries.

"I know I have work to do in the Legislature to pass my bill that I've been talking about for many years," she said. "But hey, a girl's gotta dream, and I think this is a great place for us to be imagining that industry having a cornerstone in our community."