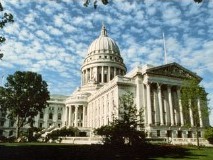 Republican lawmakers are touting a bill that would allow dental therapists to practice in Wisconsin as a fix to the state's dental care shortage.

One of the bill's sponsors, Rep. Mary Felzkowski, says Wisconsin is ranked 45th out of U.S. states for pediatric oral health care. And with 64 of the state's 72 counties facing dental care shortages for patients of all ages, she said the situation is approaching crisis level.

"It's an important issue that affects all aspects of our state," the Irma Republican said yesterday on a conference call with reporters. "Hopefully we can get something done."

The Assembly Committee on Medicaid Reform and Oversight will hold a public hearing on the bill today. AB 81 would allow dental therapists to practice in the state "under the general supervision of a dentist with whom the dental therapist has a collaborative management agreement." It would also allow the establishment of dental therapy schools.

"I really like this bill for many reasons," said Sen. Dale Kooyenga, R-Brookfield. "When you look at dental care providers in Wisconsin, you're boxed in."

He noted more dentists are actively leaving the state than arriving, and the state's only dental school in Milwaukee is at capacity with no imminent plans to expand. As the state's population of dentists grows older, he says many existing providers won't be able to increase their hours, leaving state residents with few options for care.

Dental therapists are analogous to physician assistants in the field of medicine, and as such, must work under the direct supervision of dentists.

In other states where dental therapists are authorized, Kooyenga says the quality of care hasn't suffered. And even though the profession doesn't require as much education as being a dentist, he says "having someone provide dental care is better than no one providing dental care."

The legislative push for dental therapists faces opposition from the Wisconsin Dental Association as well as Marquette University, which has the state's only dental school. Felzkowski says the bill's supporters have reached out numerous times to WDA, but the group remains against the idea.

"They said they're not interested in working or compromising on this bill," she said. "They are totally opposed."

Still, she added: "Just because the association is opposed doesn't mean all dentists are opposed."

Neither WDA nor Marquette University immediately responded to requests for comment.

Rep. Barbara Dittrich, R-Oconomowoc, says the dental care shortage issue has a larger impact on low-income residents of the state.

"Even with the number of providers we have, the number that wants to take on low-income patients is limited," she said. "This is a no-brainer; it's a free-market solution that enables people at every income level to get the care they need."

According to a release from supporters, the state's dental care shortage affects about 1.2 million residents. And based on the most recent annual data, more than 41,000 emergency room visits for "preventable dental conditions" were reported by hospitals in the state, leading to nearly $25 million in avoidable hospital charges.

Felzkowski says Wisconsin would need 211 more dentists spread across the state to meet the current shortage, and 61 of those would be located in Milwaukee County alone.

Kooyenga acknowledged it could take years to get dental therapists graduated and practicing in the field, but he said, "You never not tackle an issue because it's going to take a while."

"I believe on many public policy issues, there's not going to be a single approach to get you where you want," he said. "This is the most promising approach that promises meaningful impact over the long term."

See the bill text: http://docs.legis.wisconsin.gov/2019/related/proposals/ab81

See details for the hearing: http://docs.legis.wisconsin.gov/raw/cid/1530856